PTV Vistro
Innovative interchanges and alternative intersection designs
Today's transportation challenges push engineers to do more with less. Top challengers are increasing funding limitations and constricted rights-of-way. Also, other influences like aggressive scheduling, increases in congestion, and the need for improved safety, require innovative solutions.  PTV Vistro empowers transportation professionals to think outside-of-the-box, analyze, and document project decisions for innovative interchange and alternative intersection designs.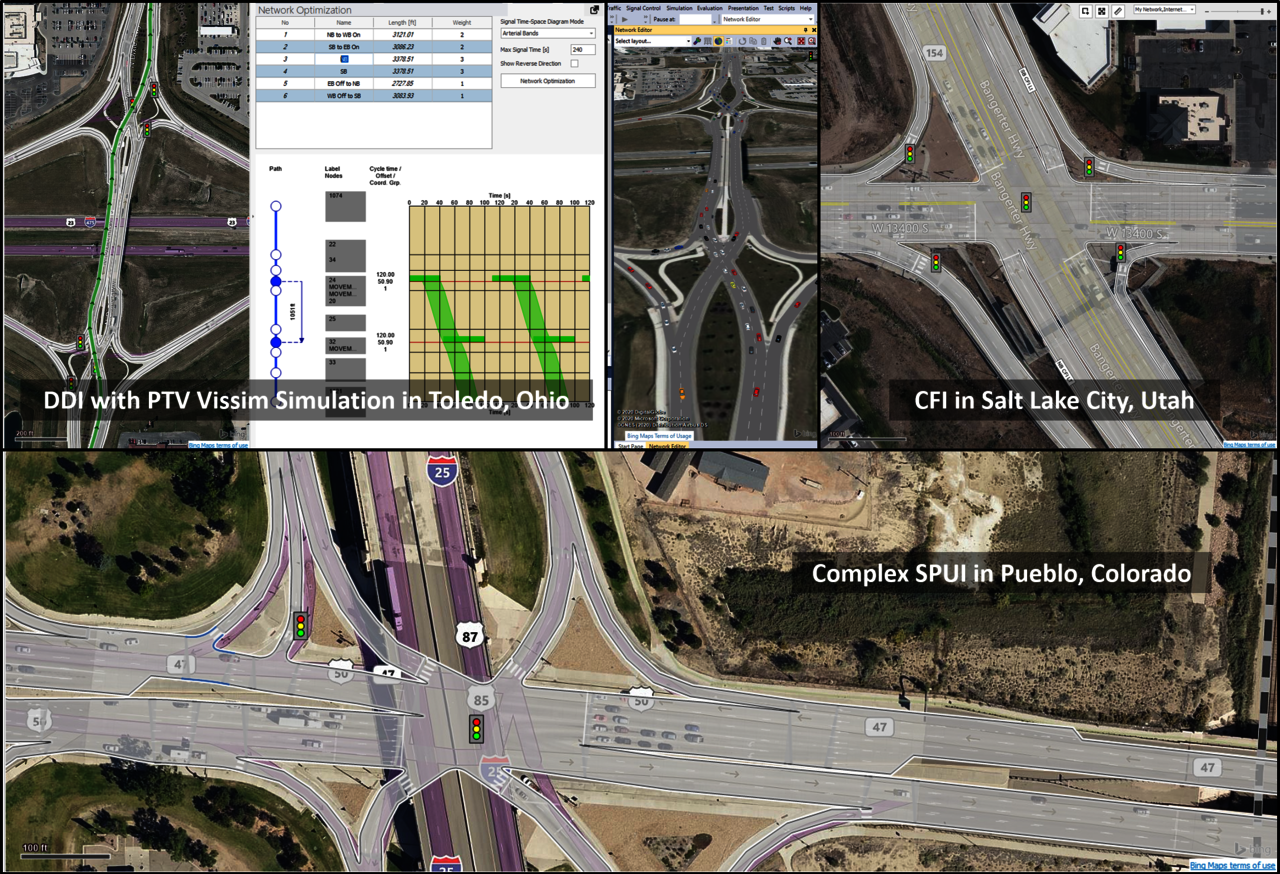 PTV Vistro models many alternative intersection design types
Also, PTV Vistro's tested traffic signal optimization workflows and flexible geometry provide you with the necessary modeling building blocks.  This functionality delivers the right and cost-effective solution. Vistro is versatile to analyze traditional traffic signal operations, complete-streets, and access-management projects. Also,  PTV Vistro quickly analyzes advanced alternative intersection designs like RCUTs, SPUIs, Green-Ts, CFIs, DDIs, MUTs, single-loops, thru-turns, and split intersections.  In addition, PTV Vistro adapts to many urban conditions like to large signalized circular intersections (signalized roundabouts).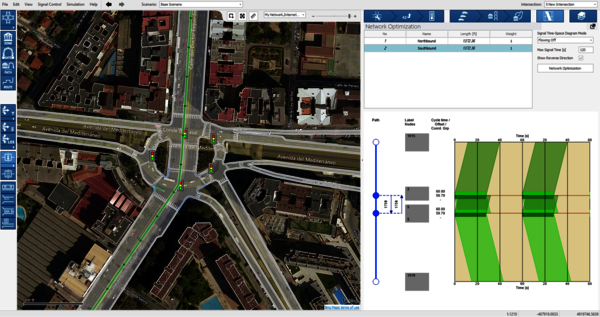 PTV Vistro analyzes large signalized circular intersections or roundabouts. Vistro model advanced configurations and arrangements in dense urban areas.
Screening of alternative intersection designs using industry-standard methods.
Robust industry-standard analysis methods mainly include the Highway Capacity Manual 6th Edition.  Also, the Canadian Capacity Guide, ICU, and the Kimber method are available in Vistro. Importantly, these trusted methods calculate the reliable results for signalized, stop-controlled, and roundabout configurations. The network editor maps, reports, and colorfully displays measures of effectiveness. Moreover, this makes PTV Vistro an important tool to screen existing conditions and find locations for improvements.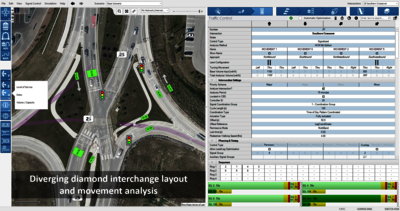 Scenario management and mitigations for an iterative experience.
Innovative interchanges and alternative intersection designs are often not straight forward, requiring an iterative development process. PTV Vistro provides you with the tools to explore and optimize your design, as well as identify red flags early before simulation in tool like PTV Vissim. Also, the detailed geometry doubles as a conceptual sketch tool while providing the analytical feedback to your design decisions. Vistro's Scenario and Mitigation managers document all of your tests and tweaks in one file. Also, if anything changes in the base model, PTV Vistro will smartly transfer changes to any scenario.  This tool consistently results in saving you time and delivering a high-quality project.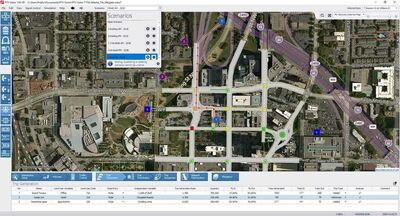 PTV Vistro's Scenario and Mitigation managers documents tests and tweaks for your alternative interchange designs in one file.
Adaptable network coding and traffic signal controllers.
PTV Vistro's user-interface is perfect to analyze alternative intersection designs. The network structure is intuitive to use and highly customizable. PTV Vistro displays the network map and workflow tables together in a split-screen, bringing vital user feedback. However, for complex intersection applications, split-screens in one window is not enough.  In this case, detailed workflows require more screen space to view numerous movements.  PTV Vistro provides multi-monitor layouts with a full-screen experience.  Simply, pop-out PTV Vistro's workflow tables and dock the data and analyses to additional displays.
Moreover, alternative intersection designs require flexible signal controllers. PTV Vistro enables you to build intricate ring-barrier sequences. Also, multiple intersections can share the same traffic controller. In addition, PTV Vistro's resilient phase diagram increases readability.  This feature clearly illustrates which phases are in use at each connected intersection.

PTV Vistro provides multi-screen layouts with a full-screen experience and dockable experience.
PTV Vistro Basics - Modeling Alternative Intersections
For more information on modeling alternative intersection types in PTV Vistro and imported detailed model data into PTV Vissim for detailed microsimulation view this webinar.