Public Transport Planning with PTV Visum
PTV Visum is the only professional traffic planning software that provides a highly detailed representation of all modes of public transport such as bus, tram, underground, taxi, rail, and train. From investing in new lines or stations to managing schedules, PTV Visum allows you to develop economically-feasible, demand and service-oriented transport services.
Customers who are satisfied with public transport planning by PTV Visum


Why you should consider public transport planning with PTV Visum
Higher profitability
Check the cost-effectiveness of your service
Happy customers
Provide better performance and increased punctuality
Easy planning
Use the strong operations planning functionalities of the software
Public Public transport planning with PTV Visum
Comprehensive public transport planning tool
Use PTV Visum to tap the full potential of public transport planning and state-of-the-art calculation methods which cover all strategic processes of traffic engineering and transport planning. Not only does the software flexibly adapts to your company's processes, but it can also be used as a central platform for public transport authorities, transport associations, or transport operators.
Fast import & export of service data
With our public transport planning function within PTV Visum, timetable and network data can be imported from most common systems (via interfaces from GIS and timetable information) and used for modelling the current public transport supply. All services can be displayed and edited in the public transport network and timetable editor.
A robust set of assignment algorithms
PTV Visum offers a robust set of assignment algorithms to simulate passenger's behaviour, including headway-based and timetable-based procedures. Impacts of the fare model and capacity restraints can be taken into account in both approaches.
Save costs where possible
As a service provider, you must always check the cost-effectiveness of your service. This includes a comprehensive analysis of results by the operator, line, passengers, and much more. PTV Visum provides a wide range of evaluation options and assists you in identifying potential cost savings during public transport planning.
Built with passengers in mind
One of the classic tasks of network and supply planning is to provide passengers with an attractive and efficient service. PTV Visum is the ideal tool for spatial and temporal planning of public transport supply. With its comprehensive analysis and public transport planning functions, weak spots can be identified and rectified. Even forecast scenarios can be analysed before any measures are implemented.
Your toolkit for public transport planning
PTV Visum offers you a simple entry into public transport planning. These features are available to you all from within PTV Visum:
Create a network with supply and demand data
Model the entire public transport supply by integrating the timetable in PTV Visum via the HAFAS or DIVA interfaces or other systems
Analyse real passenger behaviour and split revenues
Verify and complete route information by checking it against the timetable
Graphically depict individual routes and route sections
Graphically display route volumes by line
Flexibly update survey data with count data
Try Public Transport Planning with PTV Visum now
Get your free demo version of PTV Visum - the world's leading public transport planning software. For 30 days, you can put the software into action with almost all functions. 
Visualizing service planning with PTV Visum
Here are some of the features that make PTV Visum ideal for visualizing public transport service planning:
Graphical Timetable Editor
The graphical timetable editor displays the timetable's trips in a time-distance diagram. Depicting multiple lines, a user selection of stops and arrival/departure times is ideal for a service planner.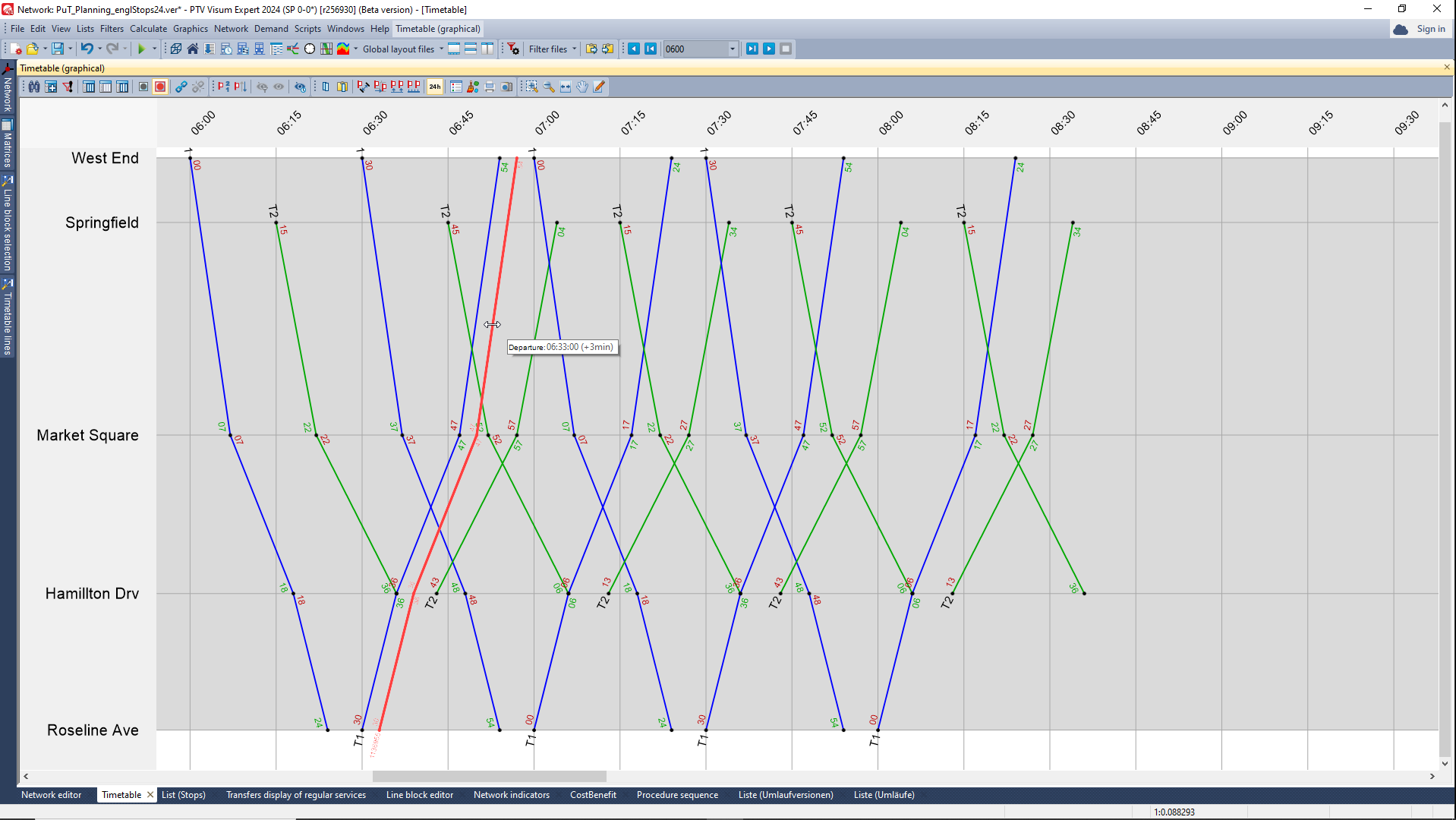 By clicking on one journey near a transfer stop, all possible and missed connection journeys are presented in a table. This gives planners valuable insights for connection optimization.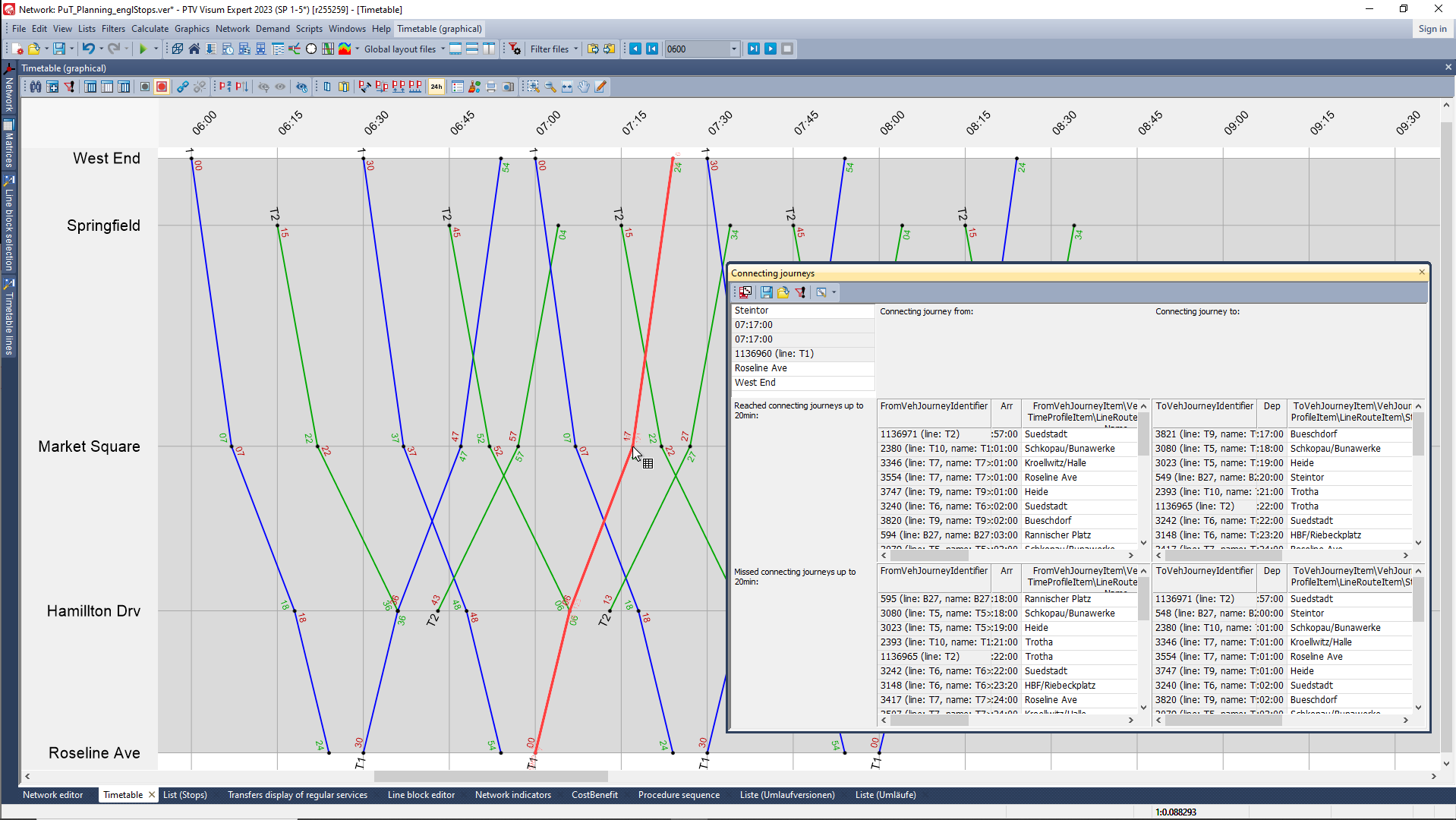 When combining it with count data and PTV Visum assignment results, the demand distribution on the single vehicle journeys is visible. Therefore, you can visualize the sections of high occupancy on vehicles and demand peaks over time and space.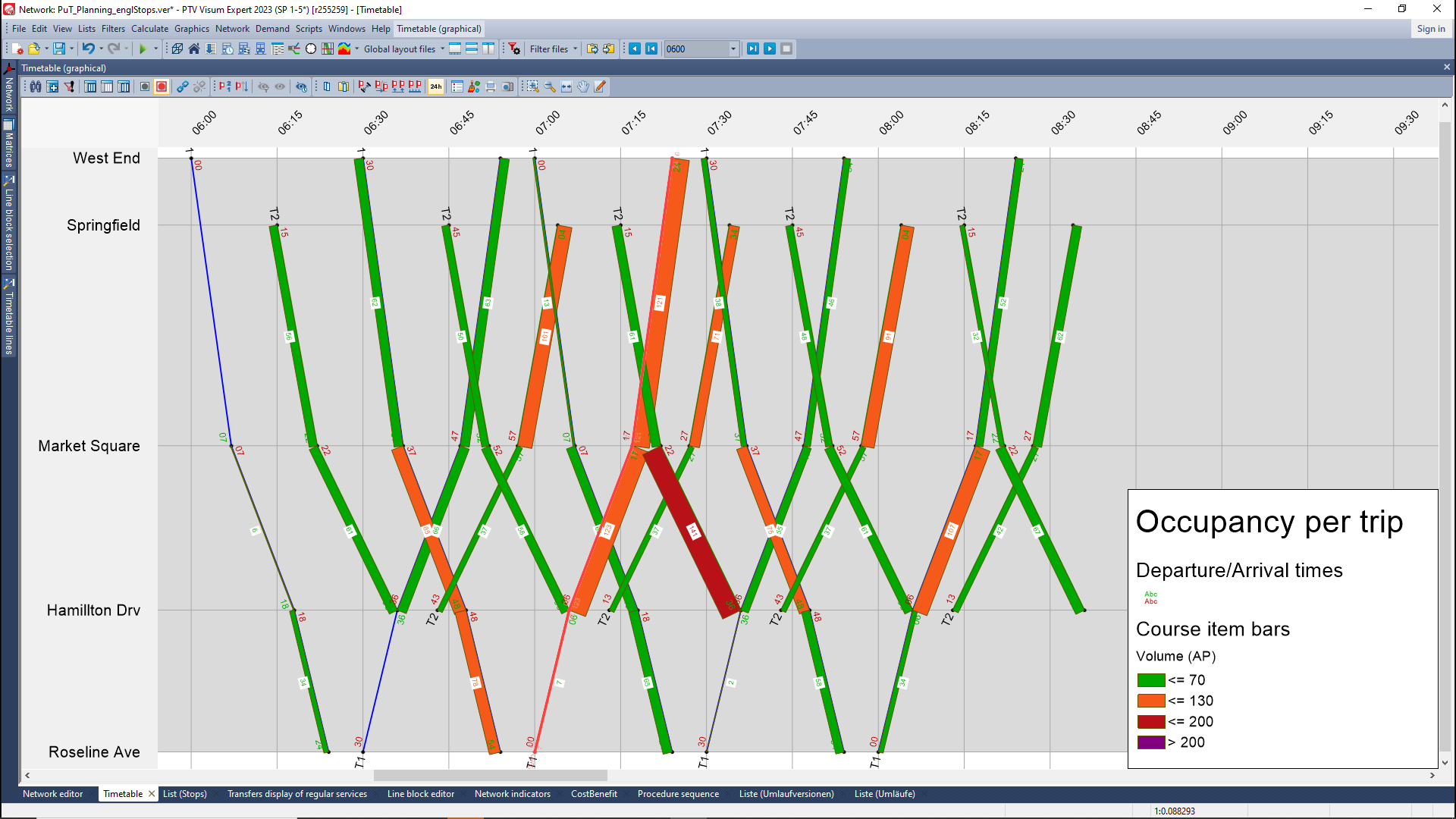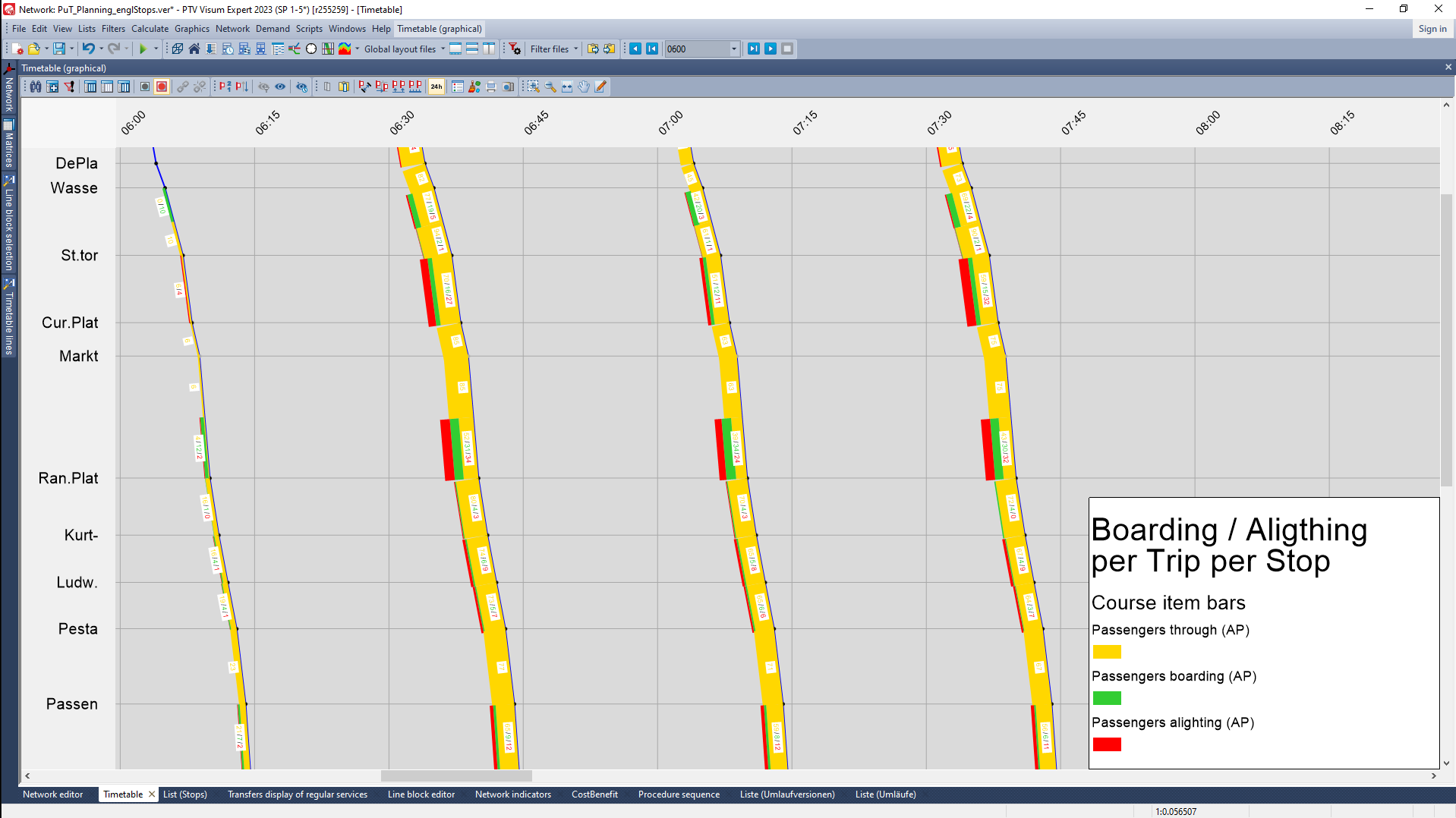 Transfer display
The transfer display depicts all transfers in a given time on one stop. The circle mimics a clock, the arrows represent the arriving and departing vehicle journeys. The position indicates the transfer time between arriving and departing trips. By selecting two trips, the required walking time and waiting time between those are indicated.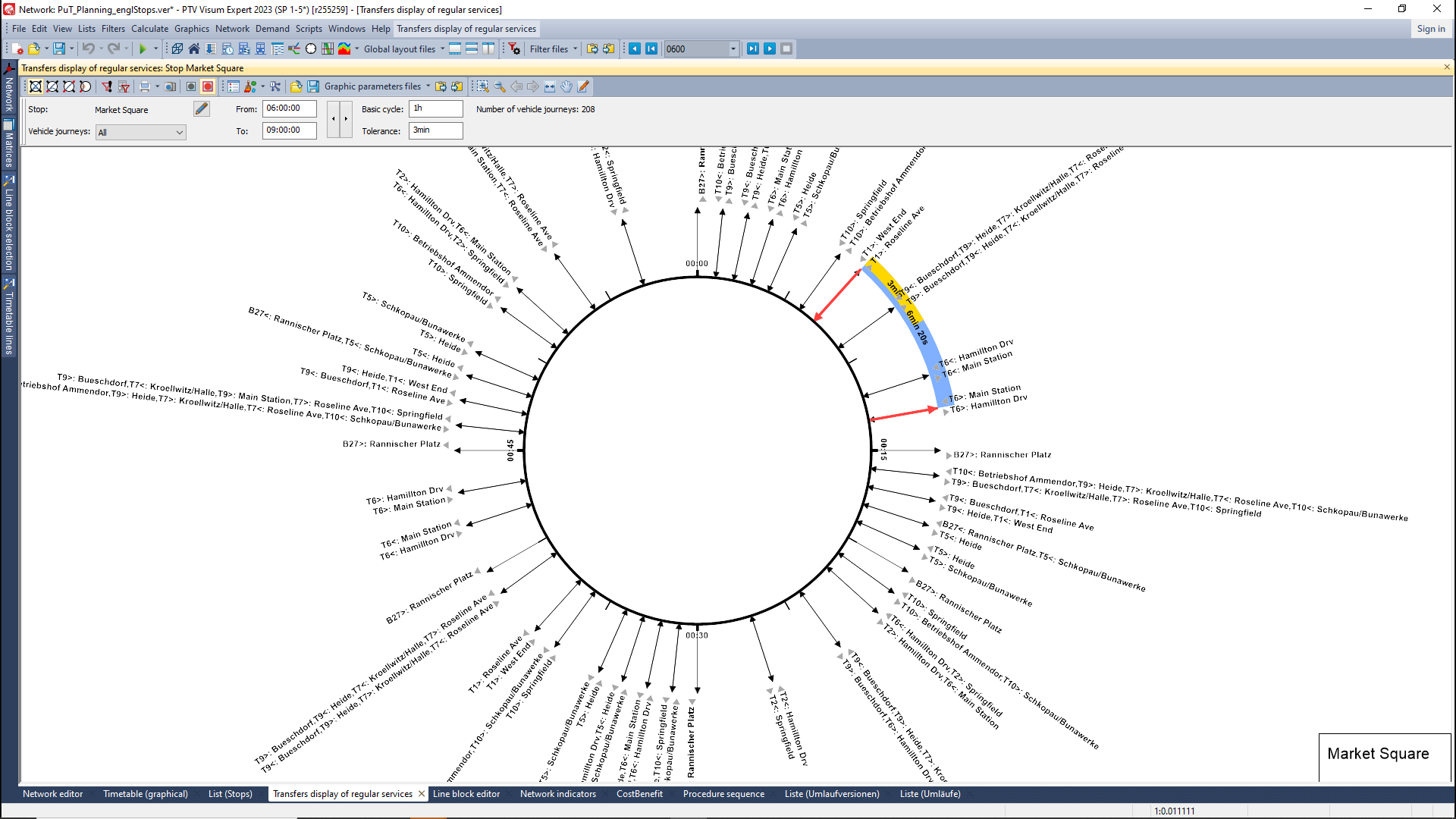 Combining it with counting data, or the PTV Visum assignment results, clearly indicates which connections are currently used. Reducing waiting times for these connections improves service quality for passengers.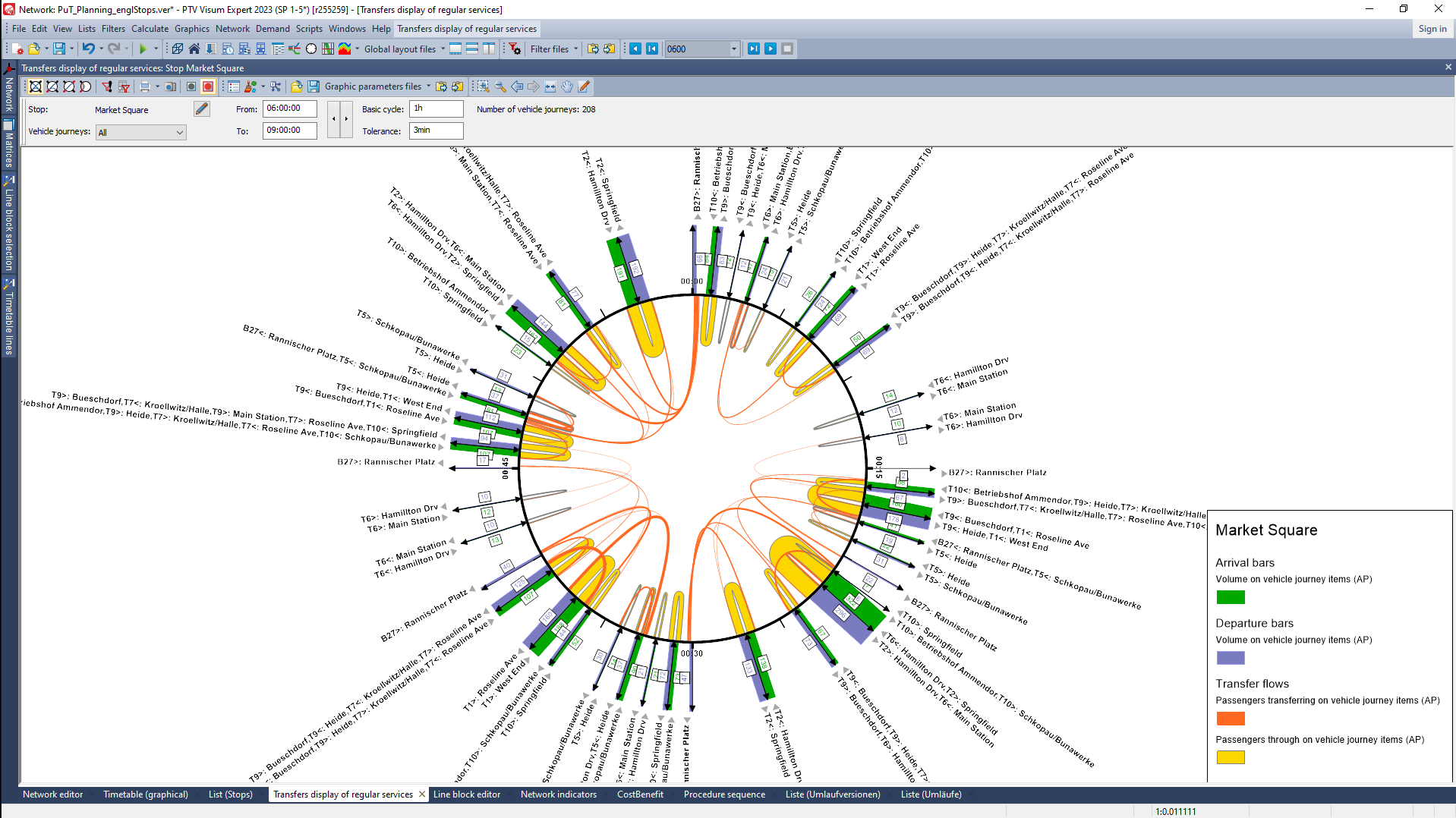 Schematic Line Diagram
Supply planners focus on network planning, timetable design, and connection optimization. The major elements - line courses, served stops and frequencies, and headway offsets - can be summarized in one view: The schematic line diagram. This kind of display supports the planning of public transport supply by providing a quick overview and serves as a tool to communicate ideas to other stakeholders.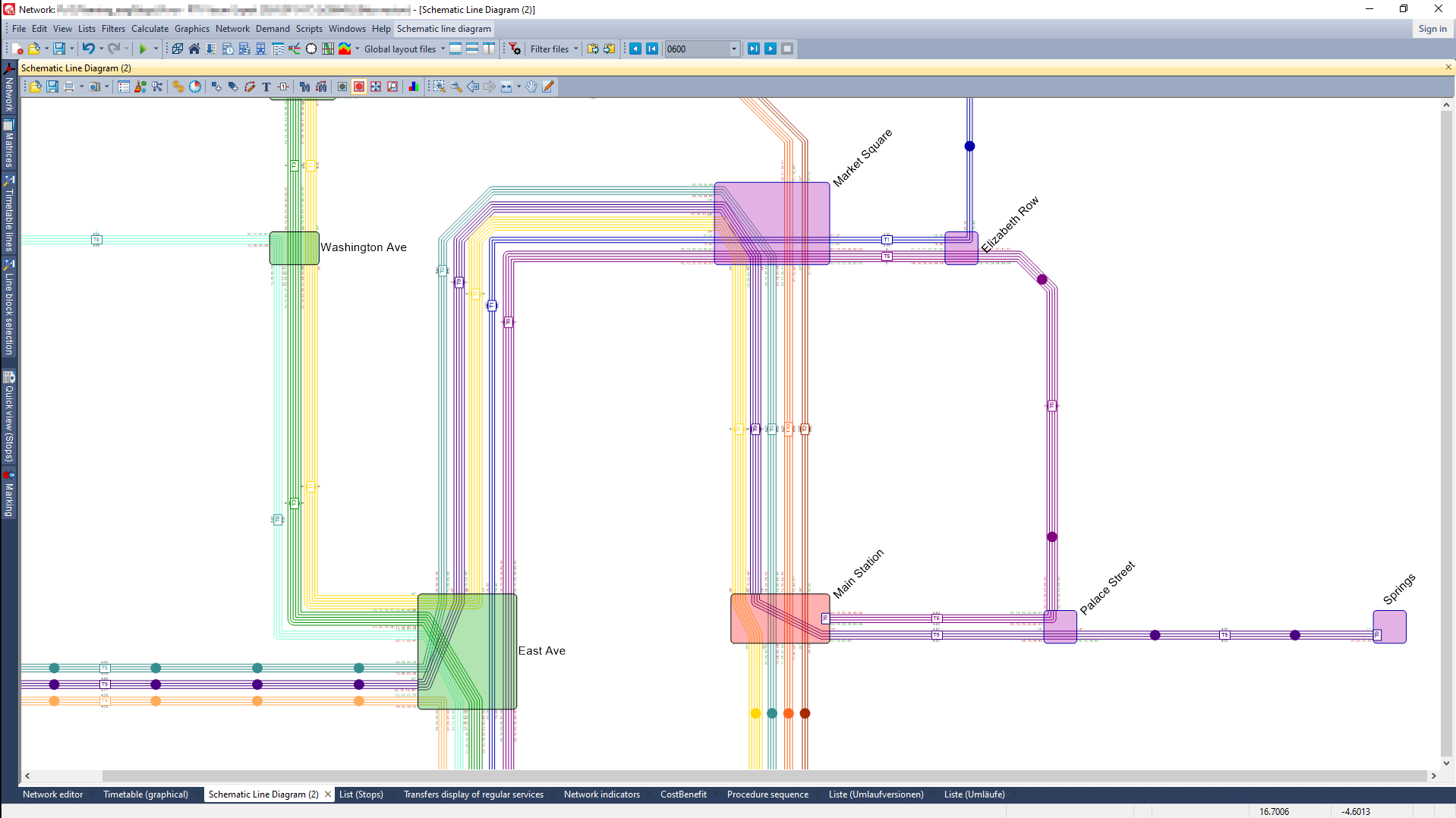 Extensive graphic parameters, bars, and labeling options allow you to clearly present important aspects, such as:
service frequencies
departure times
service type operators
model results: capacities, volumes, transfer flows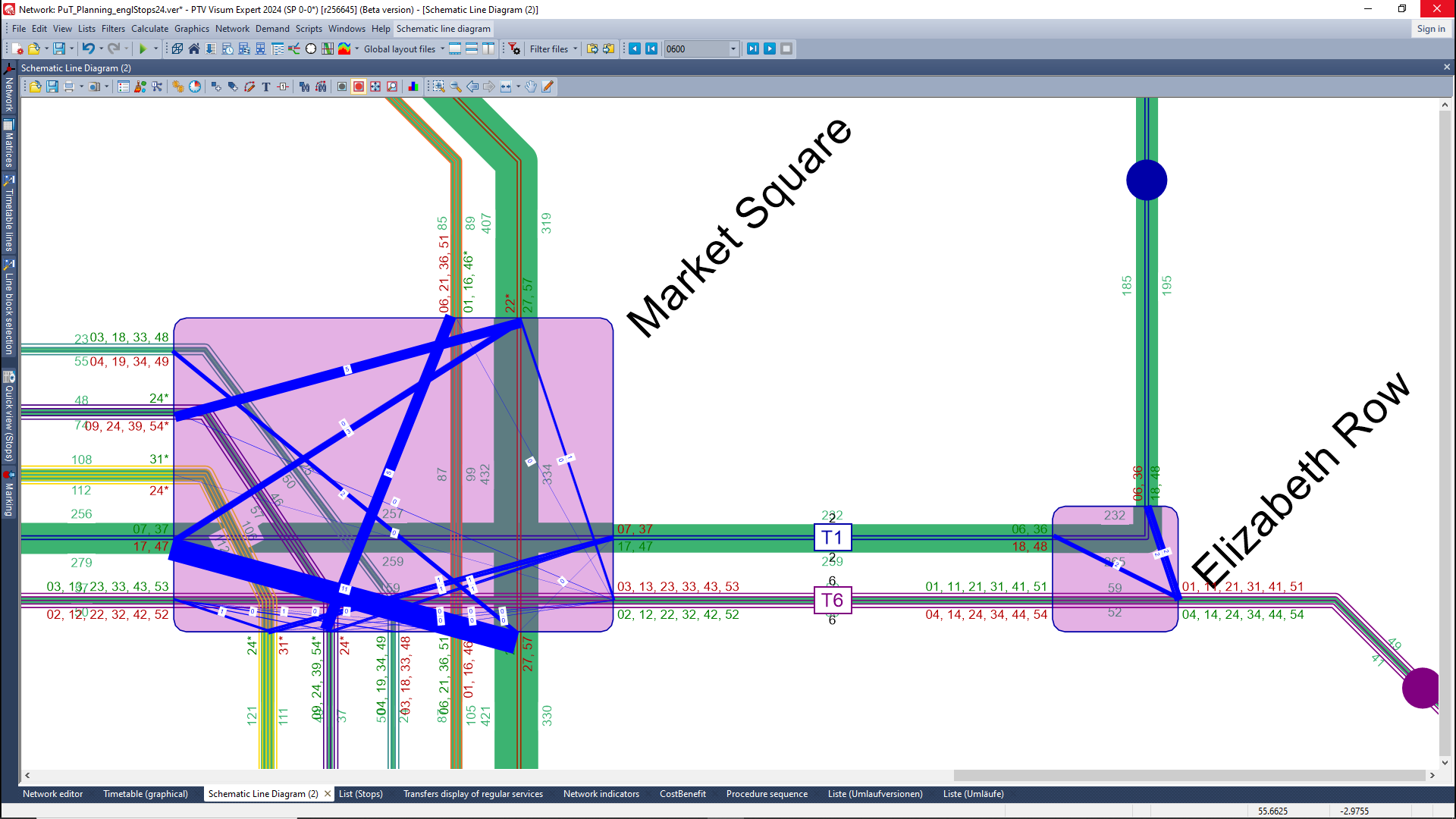 One software suite
A unique feature of PTV Visum is that it is one software suite, based on one dataset. Therefore, changes in one view are immediately updated in the other. Synchronization is possible, which means clicking on one object in one view will mark it in the other views. This enhances your daily work: You continue your work while choosing the optimal view on your data.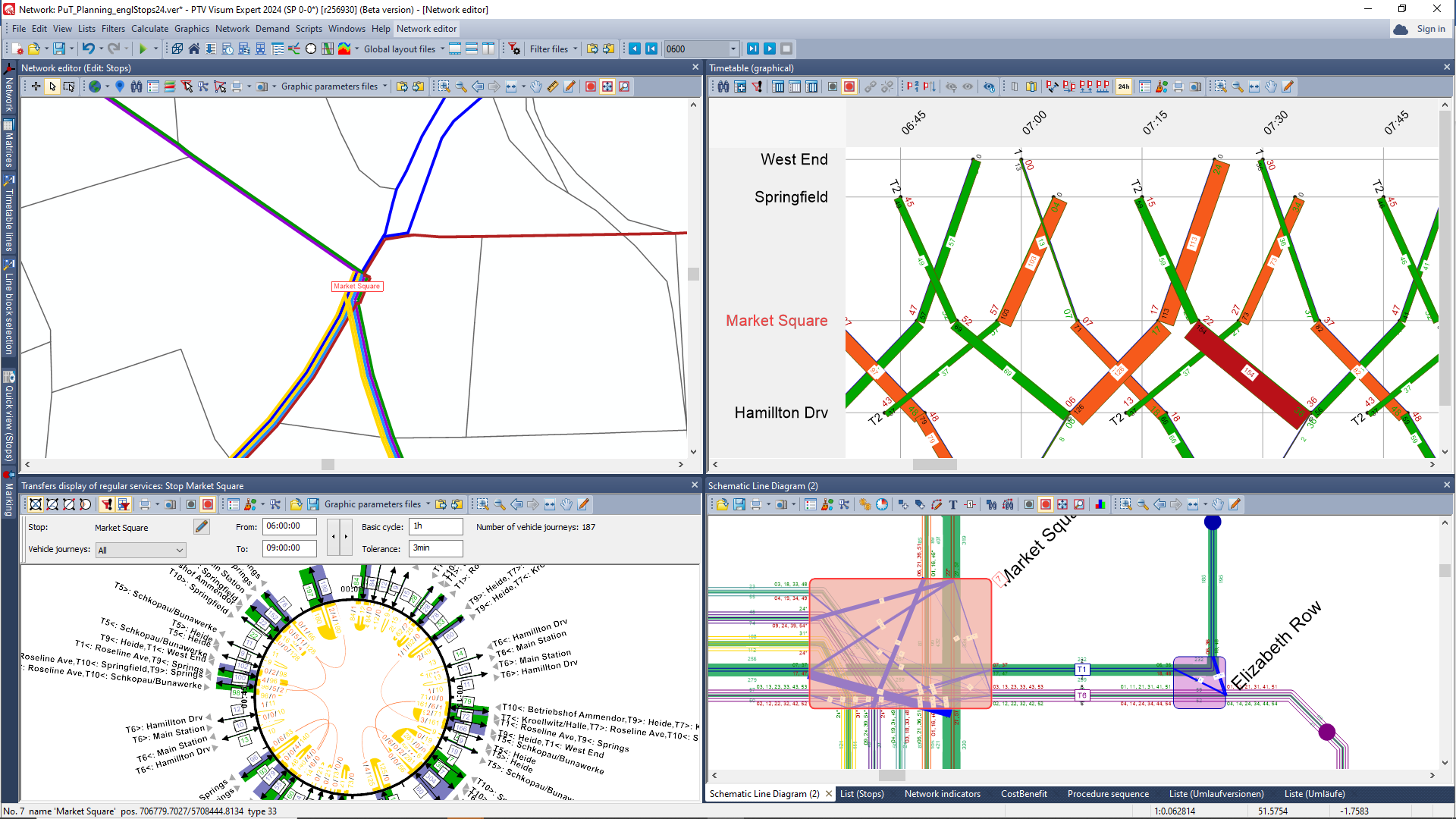 Extended features for planning Services
These features enhance the service design and give a deeper insight into the effects on the system.
Multimodality aspects: Calculating modal shift. In PTV Visum you model not only public transport, but all modes of mobility. You can model people's choices of a specific transport system. Therefore, you can estimate how many people will switch to public transport from other modes, because of planned measures or scenarios.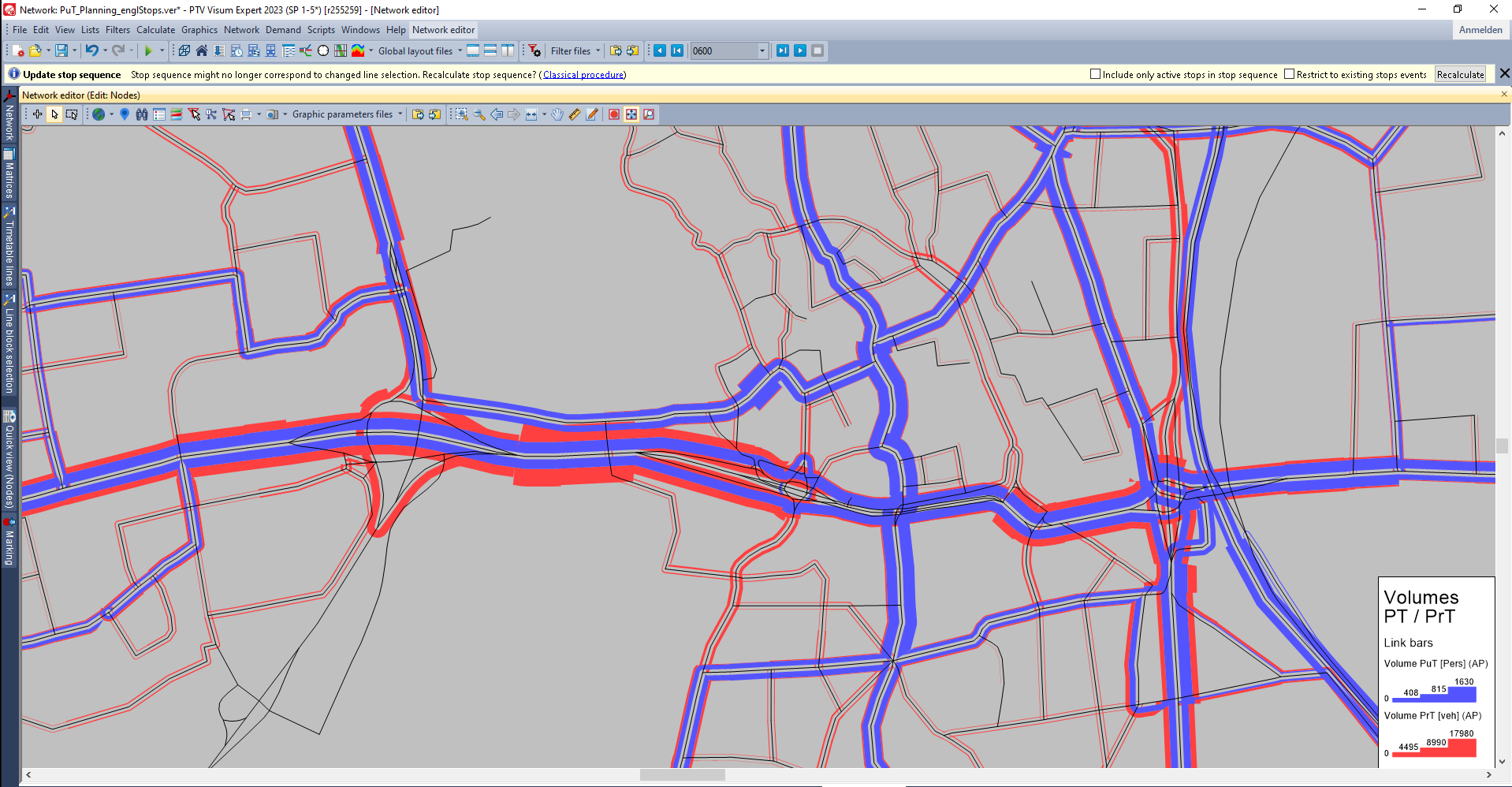 Assignments & posteriori analysis: In an assignment, combining demand and supply results in a set of individual paths. All the connections made by passengers are stored in the model, with the exact schedule and timestamps. This data can be assessed in multiple posteriori analysis, like selected link analysis or skim matrix calculation.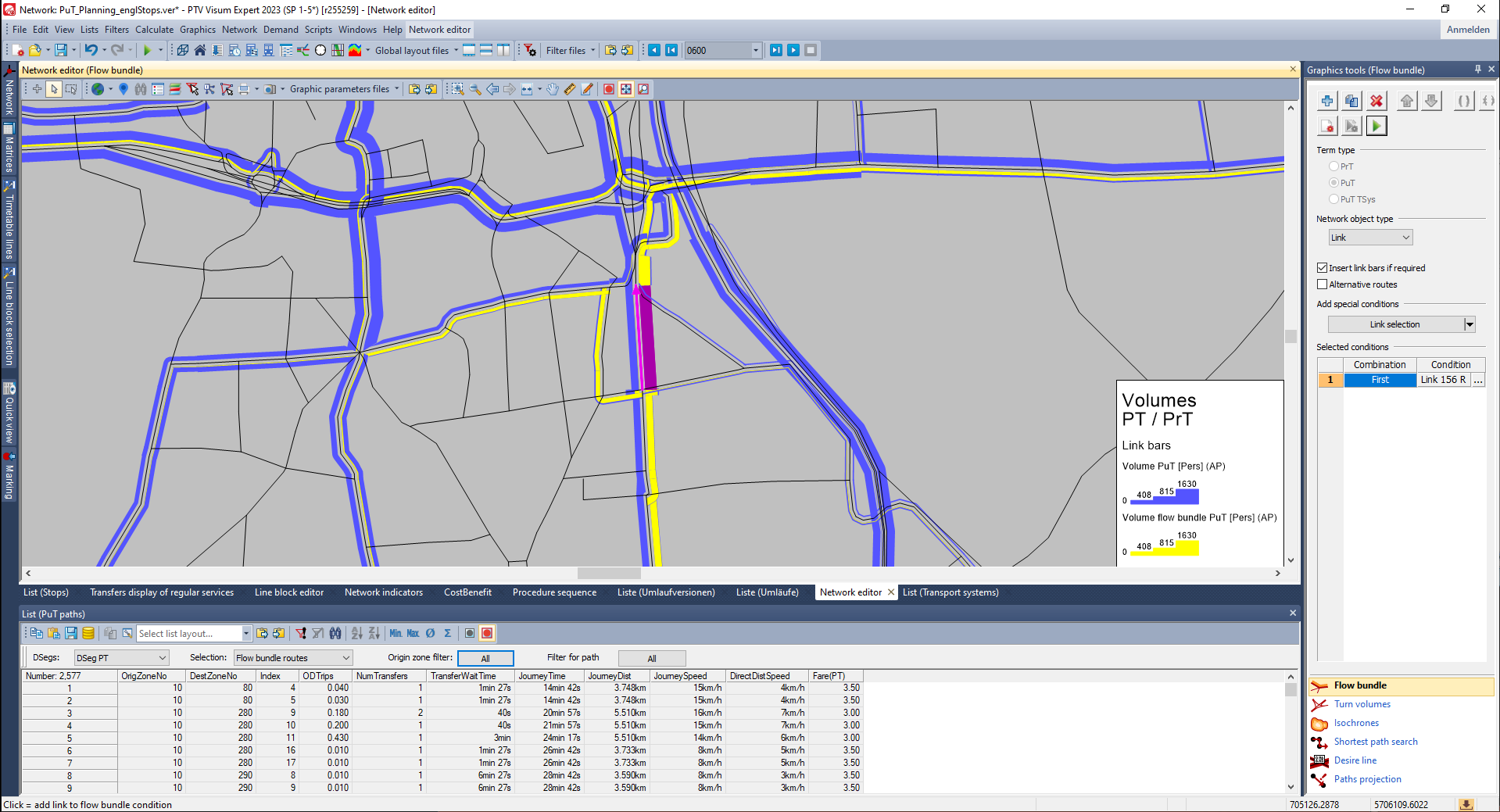 Timetable-based assignment of headway-based supply: In early planning phases, not all details of a planned supply are available. A new extension of the timetable based-assignment procedure can deal with PT services, which only holds the headway information, but not the information about the departure time. This enables planners to include such lines in the network without assuming connection details.
Headway Offset Optimization: A major part of service planning is optimizing the connection between lines. Therefore, PTV Visum offers an algorithm for optimizing the offset of headways for a single line, or the entire network, to minimize passengers' waiting times.
 
Operating Indicators: 
Vehicle Scheduling: Vehicle Scheduling turns the timetable into tour plans for buses and trams. It derives the number of needed vehicles and the performance indicators like service mileage and hour.
Cost Calculation: Having the performance indicators on all levels of the timetable enables you to derive the operating cost of the timetable.
Cost / Benefit Calculation (Standi 2016+): Often, expensive public transport infrastructure measures are subsidized. Therefore, it must be proven a project is macro-economically sensible. With PTV Visum you can derive all needed characteristic values to provide the evidence (e.g., Standi 2016+).
What customers say about PTV Visum for public transport
Sign up for your free trial
Get your free demo version of PTV Visum - the world's leading public transport planning software. For 30 days, you can put the software into action with almost all functions.