Decarbonization in public transport
Decarbonization is one of the key measures to tackle climate change and global warming. Hence, pressure is mounting on the public transport industry to contribute its fair share to this effort. Here's a short guide on how public transport operators and planners can use software to speed up decarbonization – and make it cost-effective.  
What is decarbonization? 
Transport accounts for 24% of worldwide CO2 emissions from fuel combustion. Road vehicles – cars, trucks, buses, and two-wheelers – are responsible for nearly three-quarters of these. That makes transport a major contributor to global warming and climate change.  
As awareness of this danger grows, so are the efforts to limit the amounts of harmful emissions from transportation, namely from fuel combustion engines. These efforts are called decarbonization.    
For the world to stay within a 2°C increase in average temperature, the transportation sector needs to be decarbonized. Governments around the world have set ambitious decarbonization targets. The European Union's Green New Deal, for example, aims to reduce harmful emissions by 55% by 2030 and to become carbon neutral by 2050.  
To achieve these climate goals, a massive and rapid reduction of emissions from transport is necessary. This can mostly be done by transforming to non-carbon engines, such as electrical ones.  
Public transport and decarbonization  
In public transport, the main producers of harmful emissions are fuel-engine buses. If decarbonization is to succeed, emissions from diesel-fueled bus fleets in urban areas must be reduced.  
In the EU there is already legislation in place. The clean vehicle directive defines how a clean vehicle is fueled, and it sets quotas for procurement of low and zero emission public transport vehicles.  
Therefore, public transport operators must act now: If they haven't done so yet, they should start planning the transformation of their fleets from diesel-fueled to those powered by cleaner forms of energy.  
Challenges of decarbonization in public transport 
Switching to electric vehicles means using cleaner energy, reducing harmful emissions, and less noise pollution.  
But there are several challenges to the introduction of clean-powered vehicles to public transport: 
Charging e-buses takes longer, and their range is shorter compared to buses with combustion engines. Public transport operators must therefore rethink about vehicle scheduling and network design. 
Charging infrastructure – namely the location and number of e-charging stations. It needs to be well-planned.  
Operators must also choose the right size of batteries for the e-buses, according to their needs. 
There is also a need to train public transport staff to handle high voltage operations. 
Utilizing public transport for decarbonation
Using public transport is a good way to contribute to decarbonization, regardless if the bus or train is still powered by combustion engines or is already electric. Therefore, governments and authorities encourage people to switch from cars to public transport by making the latter more attractive.  
One of the ways to do it is to introduce new ticketing concepts, which are uniformed and cheaper.   
Another way is to make car usage less attractive – namely more expensive for car owners. To this effect, many cities have introduced Low Emission Zones, and limit the amount of available parking space.   
Decarbonization features of PTV Visum 
PTV Visum software includes several features that can help public transport professionals plan decarbonization measures. Among those features are:
Strategic planning for e-buses
Fleets of e-buses are increasingly replacing diesel buses in urban public transport networks.  
For public transport operators, this change means much more than using a new source of energy: They need to re-calculate the number of vehicles; determine the capacity of the batteries; build charging infrastructure and specify the number and locations of charging stations.  
PTV Visum software helps tackle all these challenges. Its line blocking functionality (aka vehicle scheduling) models numerous scenarios of introducing fleets of e-buses. Planners can then instantly compare cost efficiencies.  
Watch tutorial video about this functionality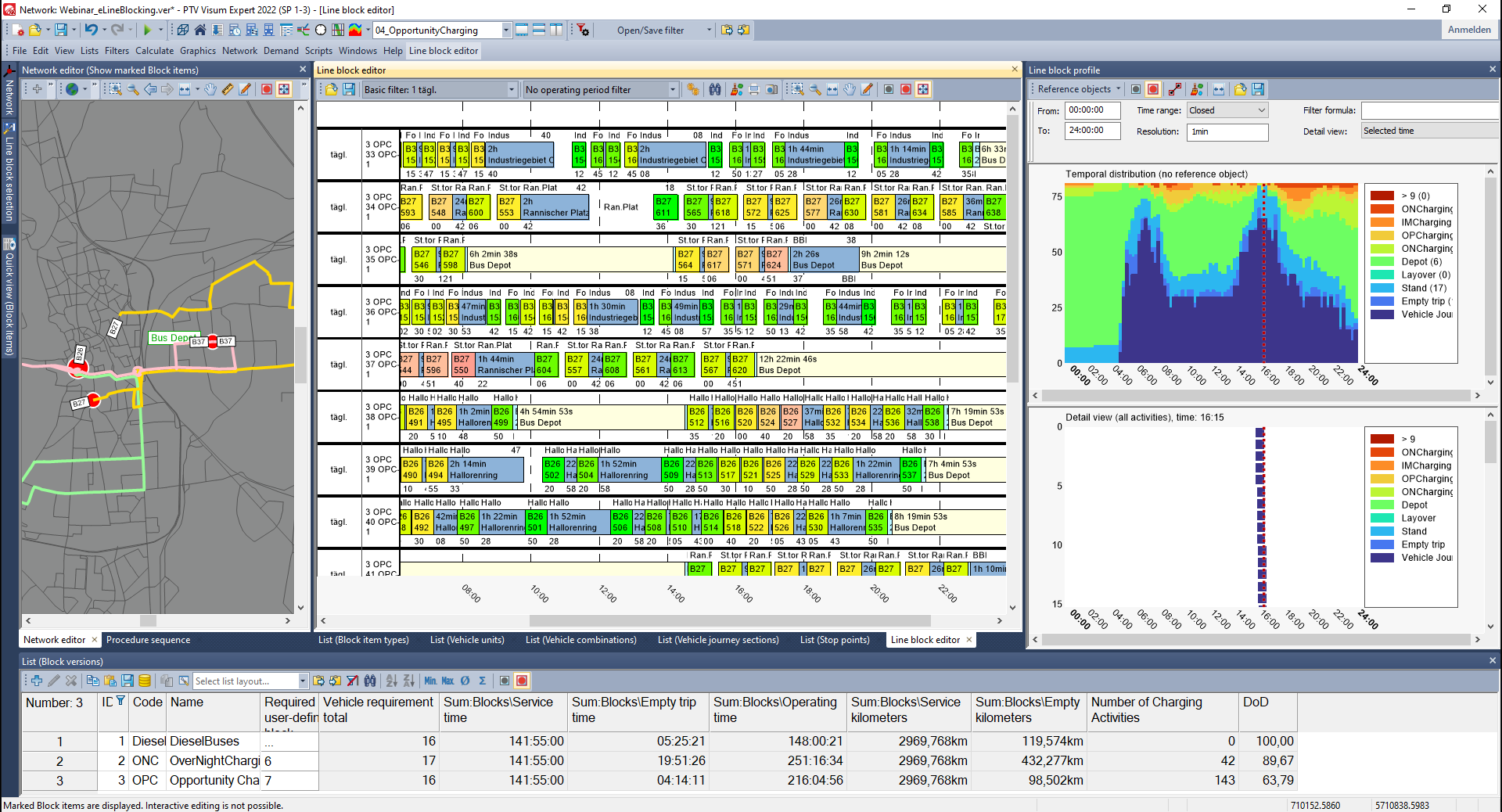 Modeling new ticketing concepts
One way to attract more passengers to public transport is to introduce new ticketing concepts. These are aimed at unifying, simplifying, and reducing costs of existing fare systems.  
PTV Visum, as a multimodal planning tool, can model the effects of these planned measures. The software depicts all kinds of tariff structures and fare calculations.  
PTV Visum's demand modeling function is the best way to plan the real effects of new ticketing concepts. Demand modeling considers not only the fares, but also service levels, reliability, and passengers' comfort.  
Using demand modeling, planners can compare the level of service in public transport to other modes of mobility, like cars or bicycles. By doing this, it is possible to assess the number of people who switch to public transport from other modes. 
Watch webinar video about this feature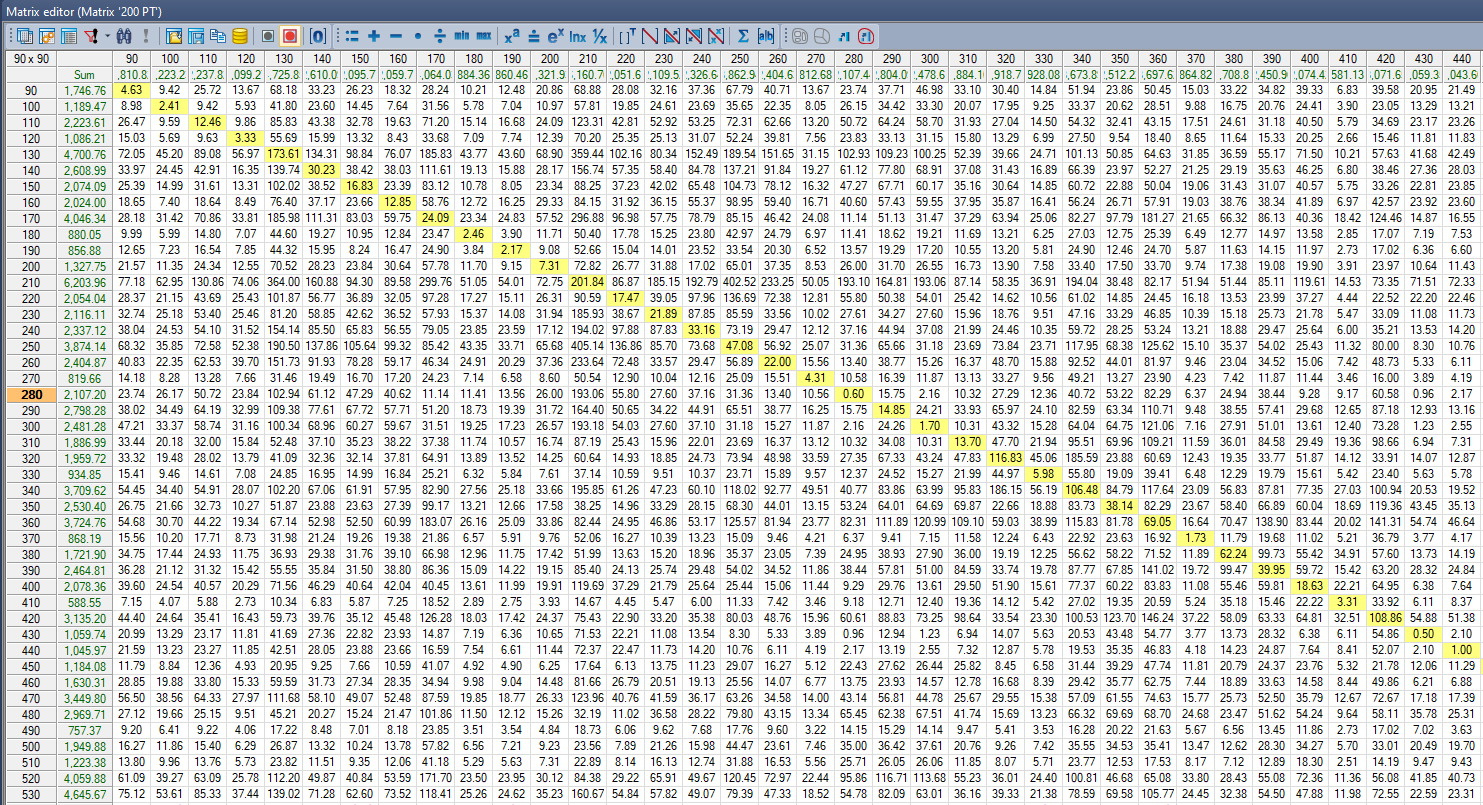 Restricted traffic zones
Many cities are looking for solutions to tackle congestion and its environmental impacts. These solutions include driving bans, restricted driving zones, and charging policies according to vehicles' pollutant emissions.  
Environmental zones are already a common measure. In Germany, for example, environmental zones are often defined as areas in which only vehicles that meet certain standards for exhaust emission are allowed. In the context of restricted traffic areas, they represent areas with driving bans. In other cases, such as London, vehicles that do not meet corresponding standards must pay a fee if they want to access the so-called Ultra Low Emission Zone (ULEZ). 
With PTV Visum, you can model this type of measures, and compare scenarios of their effects. In addition, the effects can be calculated in static assignments, as well as within the simulation-based assignment (SBA). 
Restricted traffic areas – whether no traffic, no through traffic, or area toll - can be considered in all assignments.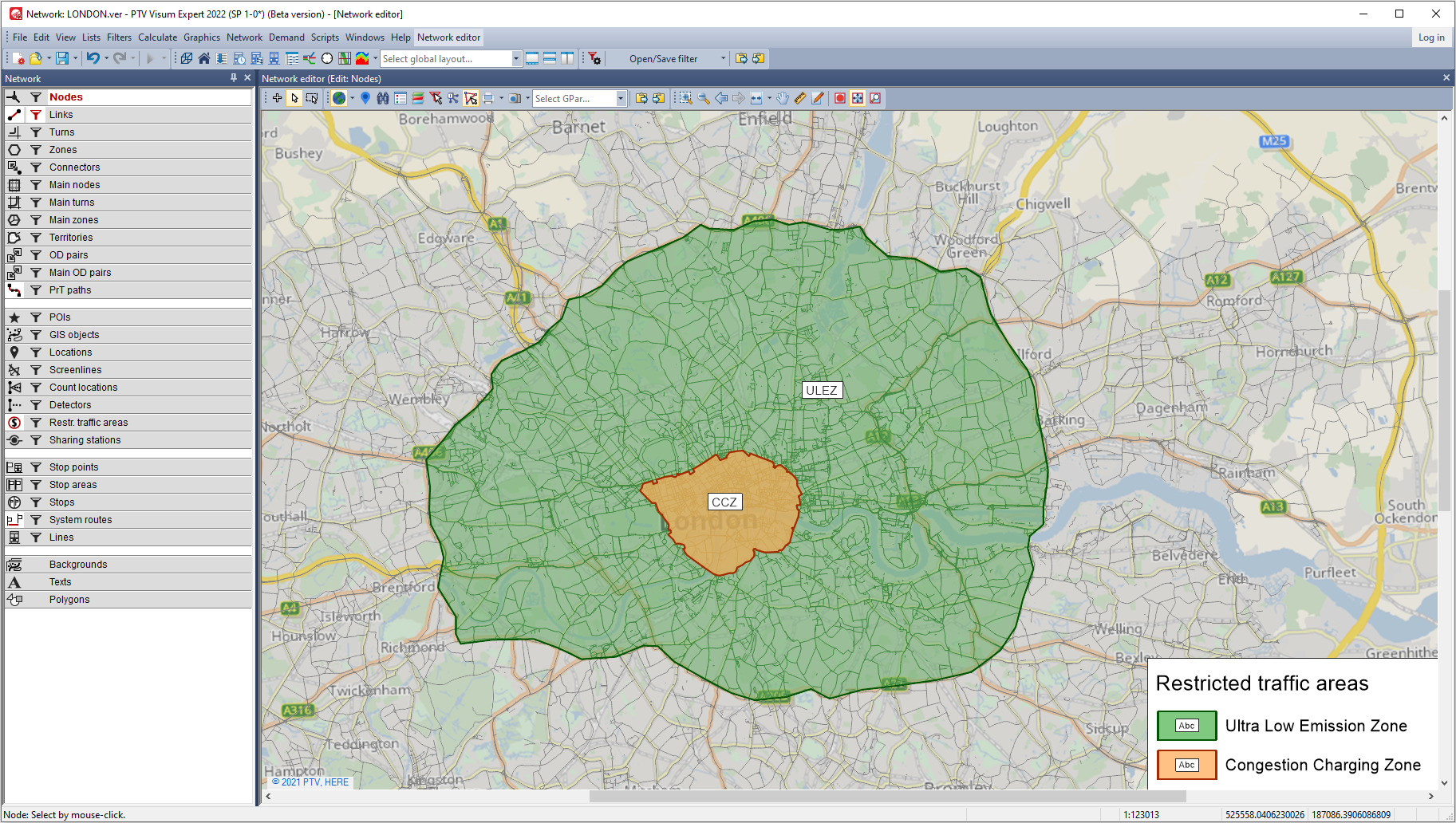 Discover the software to speed up decarbonization
Get your free demo version of PTV Visum - the world's leading transport planning software - or get in touch with our experts.