Public Transport Operations management
Public transport operations management is one of the most critical aspects of public transit networks.
One of the best ways for public transport providers to improve and speed up their operations management is to rely on quality real-time data. Relying on good data also enables operators to observe trends in the performance of their services and passengers' reaction to them.
What is public transport operations management?
Public transport operations management consists of network monitoring and timetable adjustments. The goal is to maximize the effectiveness of public transport supply for the passengers, even when there are fluctuations in demand or disruptions to supply.
Control centers play a key role in public transport operations management. These control centers are usually run by public transport operators or agencies.
Through public transport operations management, operators and agencies can tackle some of the most common challenges to their operations, such as:
Overcrowding during peak hours
Passengers missing connections because of delays
Adjusting bus and tram services due to disruptions from private traffic
Activating replacement vehicles or lines during supply failures
Adjusting service frequency according to real-time information and passenger demand
Keeping the service effective during events of exceptional demand: sport games, festivals, commercial fairs, etc.
Software for public transport operations management
Like in many other areas of mobility, software can greatly improve and speed up public transport operations management.
With software, public transport planners can combine multiple scenarios, integrate data from other departments, and present updated plans to all stakeholders.
When there are disruptions to service, public transport operations management by manual methods is simply not enough. Operators must react quickly, and non-connected tools cannot collect all the data in real time from constantly updating sources.
The solution is modeling software. Modeling software tools help public transport operators to speed up operations management and better predict how changes will affect the network.
In addition, relying on data allows operators to take the best decisions according to the current situation, instead of relying on rules of thumbs or orders from management.
Current trends in mobility highlight the advantages of using modeling in public transport operations management. By incorporating modeling, it is now possible to make quick adjustments to timetables to accommodate health-, cost-, or connectivity-related needs with greater accuracy and fewer mistakes.
PTV Group software for operations management
PTV Group offers two products for public transport operations management:
PTV Optima for public transport operations management
PTV Optima is a software suite dealing with live streaming ITS data, from traffic to public transport and shared mobility. It provides the control centers of public transport operators with monitoring- and decision-making support for the entire network.
With PTV Optima, public transport operators get greater knowledge of the current network situation, and how it will evolve in the near and further future. Based on this, they can automatize alerts and actions. All indicators, alerts, and actions can be created and customized with just a few clicks.
In addition, operators use PTV Optima to quantitatively assess mitigation actions to current or forecasted needs. In just a few minutes, they identify the most appropriate action to take in order to relief users.
PTV Optima is particularly suitable for dealing with daily variations in demand and supply, due to planned or unplanned events in the network. To do this, PTV Optima uses ML and simulations, separately or combined. It connects the dots among segregated and disconnected mobility data sets.
PTV Optima comes with its own web UI and can also be integrated with other tools via its API.
PTV Optima enables operators of mobility control centers to do the following: 
Continuously update demand and supply data via live feeds or scheduled events
Track PT vehicles along their routes and update ETA at stops, considering traffic conditions
Estimate demand levels outside detector locations
Evaluate in advance how live updated demand and supply will combine, at different forecast horizons
Broadcast synthetic information toward end users
Create and compare several mitigation actions
Customize indicators, and their locations and anticipation time
Automate processes connected to the indicators
Features of PTV Optima for managing public transport operations
Here are some of the features that make PTV Optima ideal for managing public transport operations:
Digital twin fitting live data
Via its many data connectors, PTV Optima continuously receives data from live feeds. The data collected by sensors and other sources includes counts, speeds, travel times, and much more. 
The data is compared with the expected situation, based on standard patterns, and previously received data. The digital representation is updated to fit the observations and returns correct synthetic indicators and forecasts.
This process runs continuously, constantly updating the situation monitoring.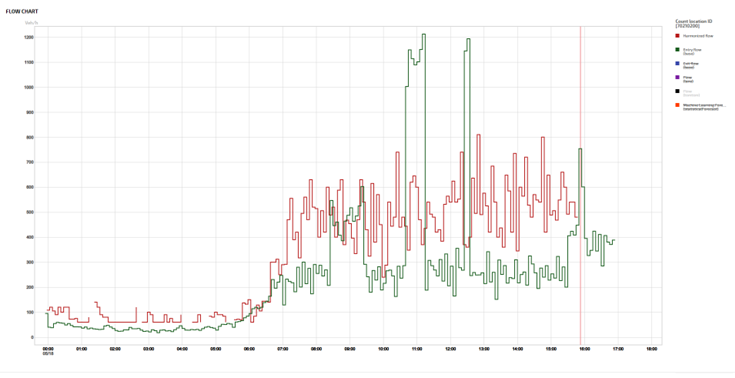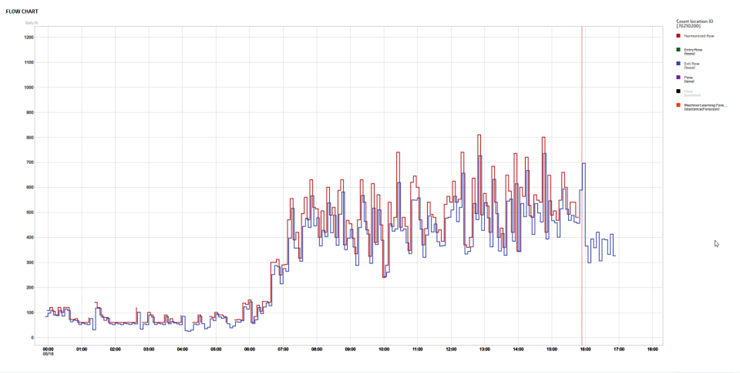 PTV vehicle positions and ETA
PTV Optima displays real-time positions of public transport vehicles and updates their delays and expected time of arrival at the remaining stops of their routes.
In addition, it updates the ETA of the vehicle for the next stops. It considers the current delay, as well as the live and forecasted traffic along mixed segments the vehicle runs through.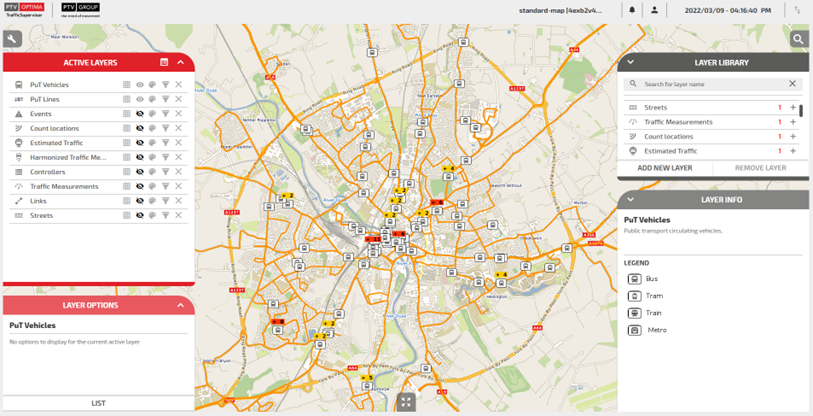 Demand estimation
PTV Optima uses live demand counts from sensors at fixed locations and onboard vehicles. Based on this data, it estimates the surrounding demand, even where no detection is available.
With PTV Optima, users can estimate data where no sensors are available, and fill data gaps when sensors fail.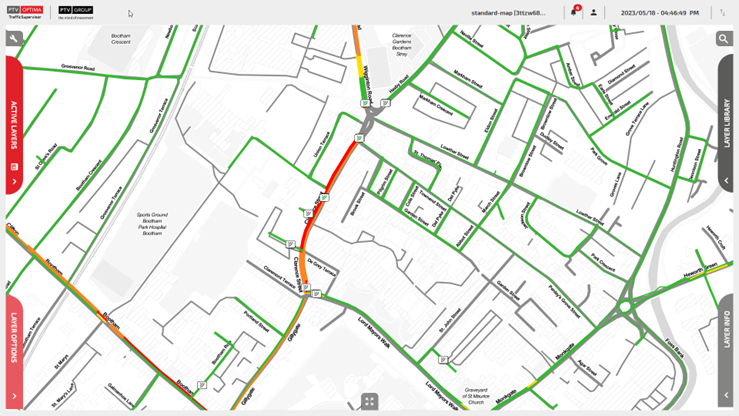 Anticipation awareness
PTV Optima enables every user to build their own synthetic dashboard, focusing on the user's area of responsibility. 
The dashboard indicators show the live situation, and its expected evolution. This way, control center operators gain real-time awareness and pre-identify critical issues, giving them more time to react. 
Users can monitor historical trends of the KPIs and observe if a situation may pass critical thresholds. They can also monitor the trend of forecasted KPI values, to see if it is expected to recover.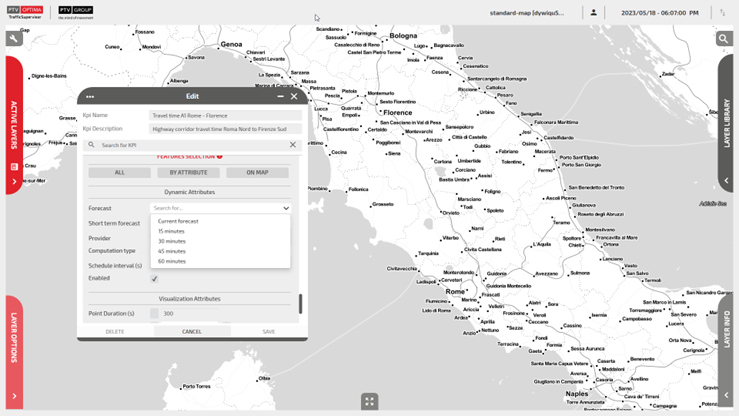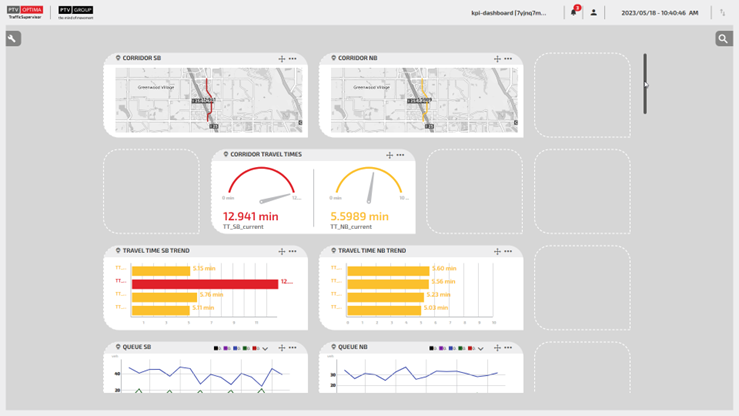 Information broadcasting
As a data hub, PTV Optima connects other services to its API. These can then retrieve information about active and planned events on the road network and share it with all relevant stakeholders.
The module Smart Display suggests the most relevant events around any network location, given the distance and impact of the event.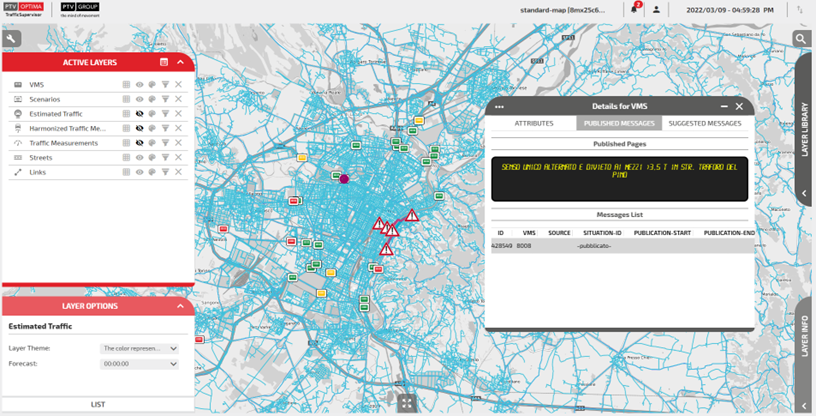 Scenario comparison
Once PTV Optima identifies a critical issue, users can create or choose alternative mitigation actions. They assess the benefits of each action, by using the existing or by creating new custom indicators.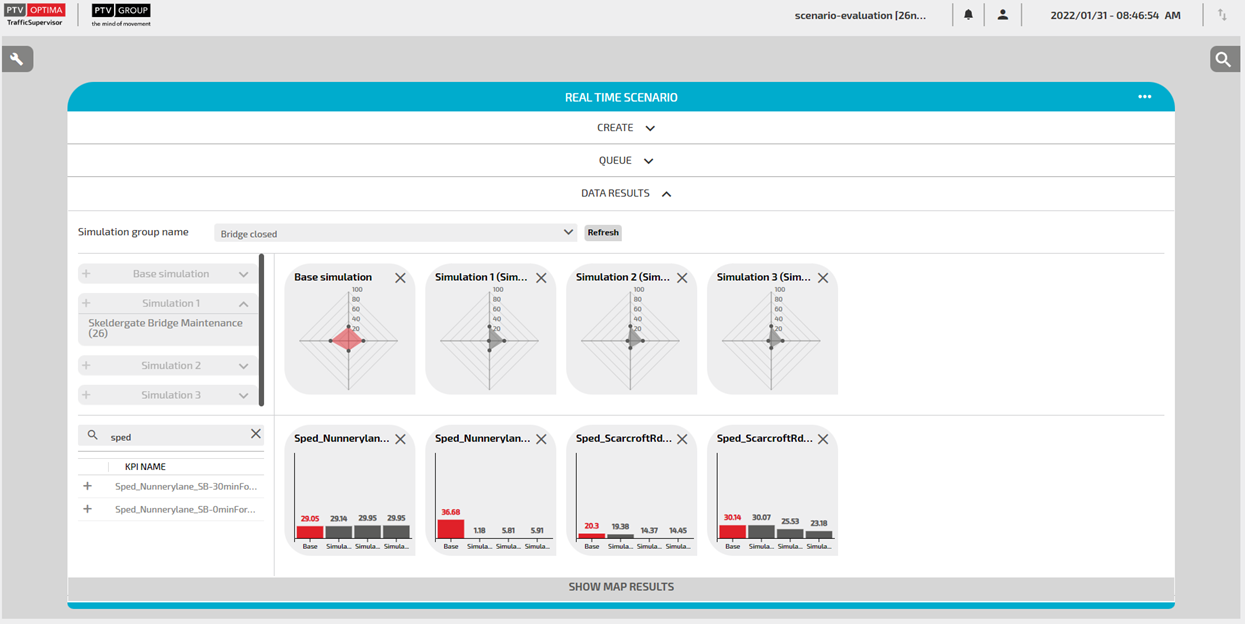 Customizable indicators
With just a few clicks on the map, users can easily create new KPIs from a wide range of templates.
Users can specify the attributes of each KPI, such as location, reference objects, and forecast distance.
Quality thresholds can also be specified, triggering automatic actions via the Detection & Control module.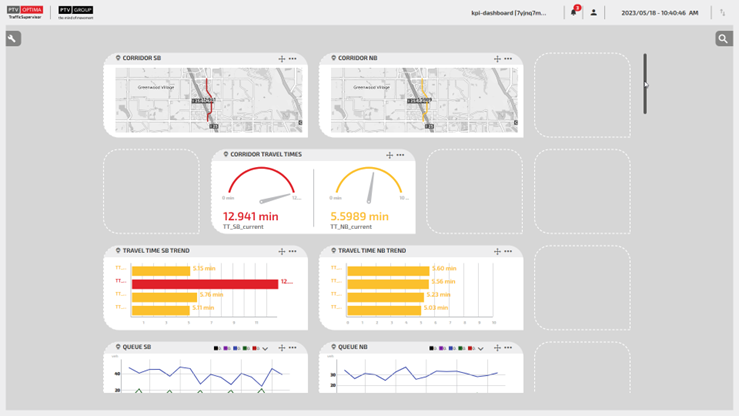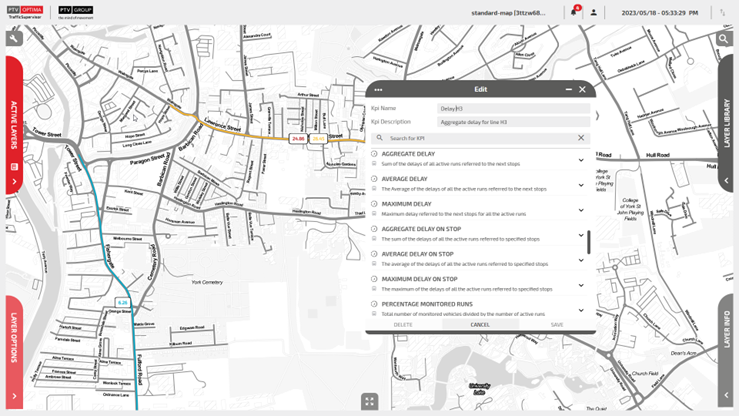 PTV Optima Hyperpath for MaaS real-time journey planning 
Hyperpath is the journey planning module of PTV Optima. It calculates inter-modal travel solutions, combining all available modes of mobility: private, public, and shared. Hyperpath is especially designed for live mobility data and is constantly updated with external data: public transport services, available parking, and shared vehicle bookings.
Hyperpath combines many attributes that can be controlled by the user, or by the service provider. As a result, service providers can enact policies dynamically, to modify the suggested optimal mobility patterns. To this aim, Hyperpath is the perfect journey planner to let you reach MaaS Level 4!
Optima Hyperpath enables mobility operators to do the following: 
Calculate inter-modal mobility solutions for end-users. It combines all modes of mobility users are willing to use, in line with MaaS paradigm Level 1
Continuously update available PT and shared mobility offerings via schedule and live feeds, including live traffic
Allow users to customize their solution accordingly to a wide range of attributes
Combine user preferences and background mobility policies, consistently with MaaS paradigm Level 4
Features of PTV Optima Hyperpath for planning intermodal trips
Here are some of the features that make PTV Optima Hyperpath ideal for inter-modal trip searches:
Inter-modal journey planning
As a general-purpose inter-modal journey planner, PTV Optima Hyperpath combines all existing modes of mobility in the area covered.
By default, this module offers a wide range of modes and combinations. It can be customized to cover more advanced use cases and new travel modes.
Mode combination is not limited and does not have to be pre-defined. This ensures the search covers all possible alternatives and looks for the true optimum.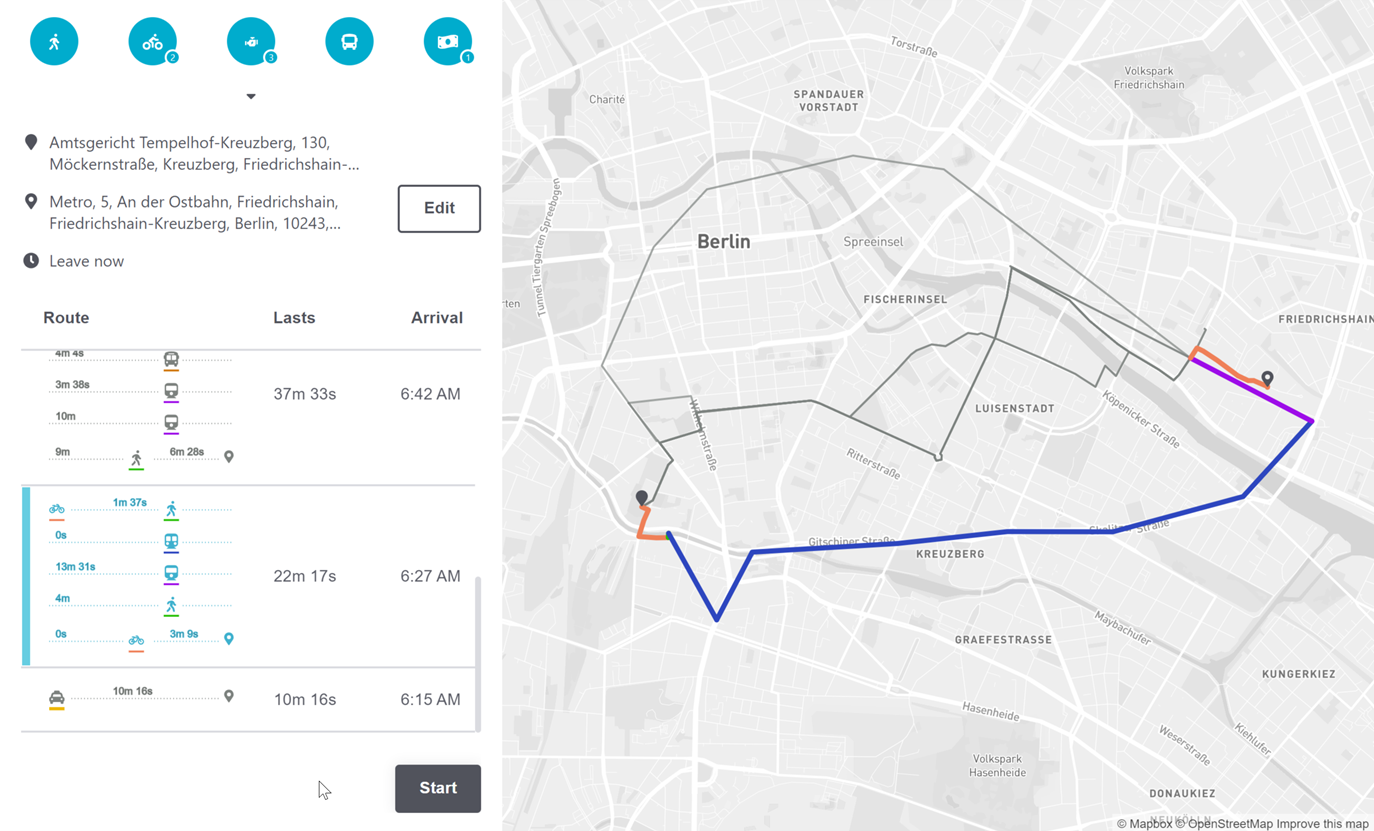 New mobility trends and dynamic data
The module already covers new and sustainable mobility trends, such as: 
Park & Ride
Bike & Ride
Foldable scooters and carriages on board of public transport
Car-sharing and bike-sharing combined with public transport
Every search for travel solutions includes dynamic data about travel and waiting times (live traffic, ETA of vehicles at stops), updated service (cancelled trips or closed stops), and vehicle availability (shared vehicle location and bookings).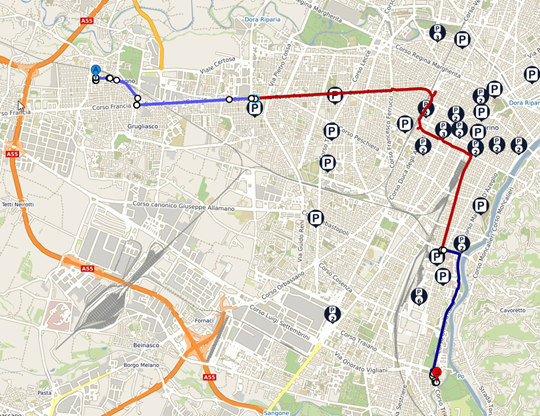 Integration API
PTV Optima Hyperpath comes with a complete API that can be integrated into any journey planning visualization: reactive web UIs, mobility portals, mobile apps.
The customizable requests enable it to serve a wide variety of route search use cases.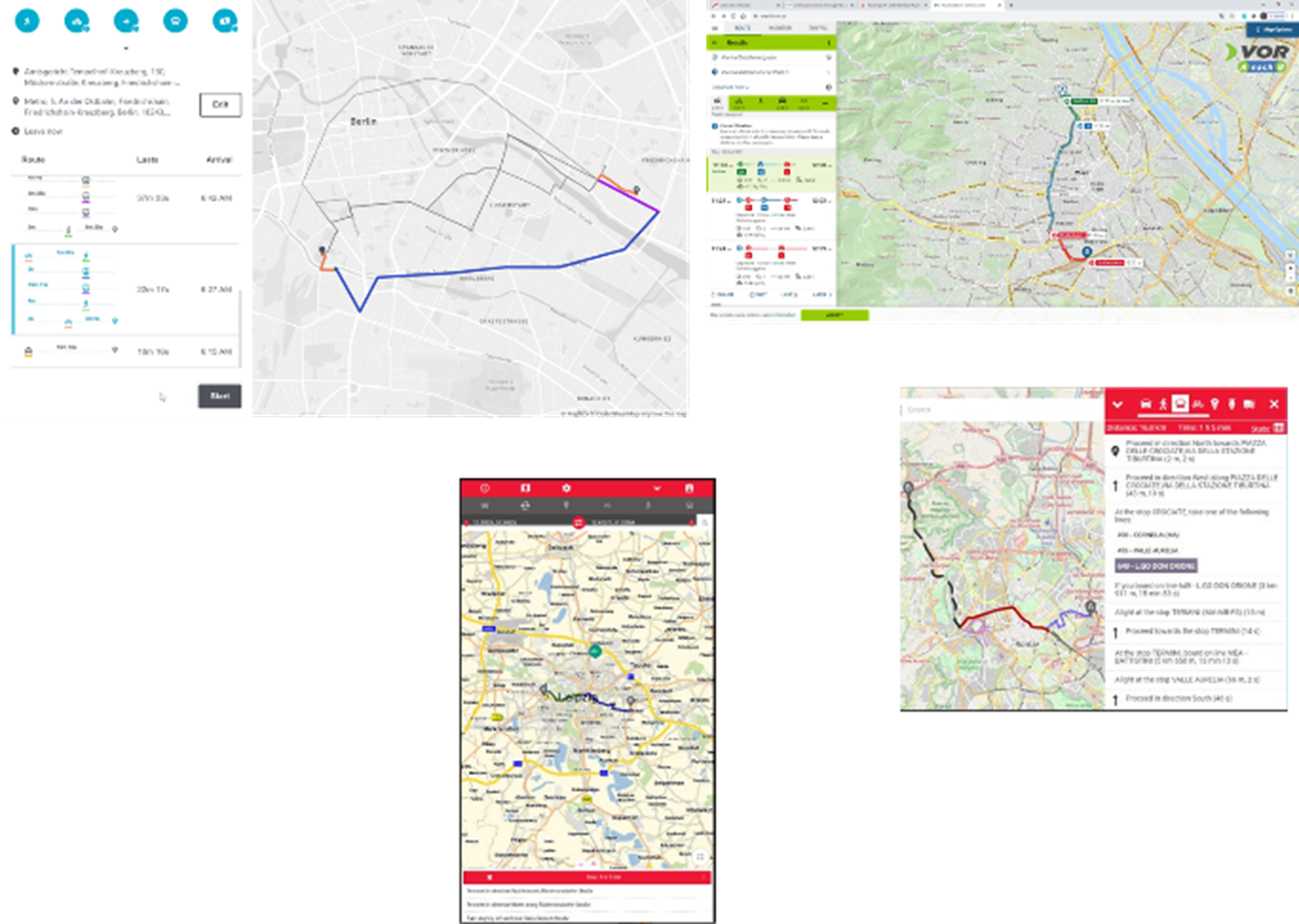 Get advice from our experts and test PTV Optima or PTV Optima Hyperpath