PTV Vistro
Active transportation planning with PTV Vistro's traffic signal workflows
PTV Vistro is your active transportation analysis tool. Understanding how pedestrian and bicycle facilities operate fosters safe and efficient designs for vulnerable users. This knowledge is critical in the development of active transportation plans and complete streets projects. Additionally, PTV Vistro's traffic workflows include industry-standard methods. Also, this functionality enables planners and engineers to optimize and prioritize active transportation modes and support recommendations.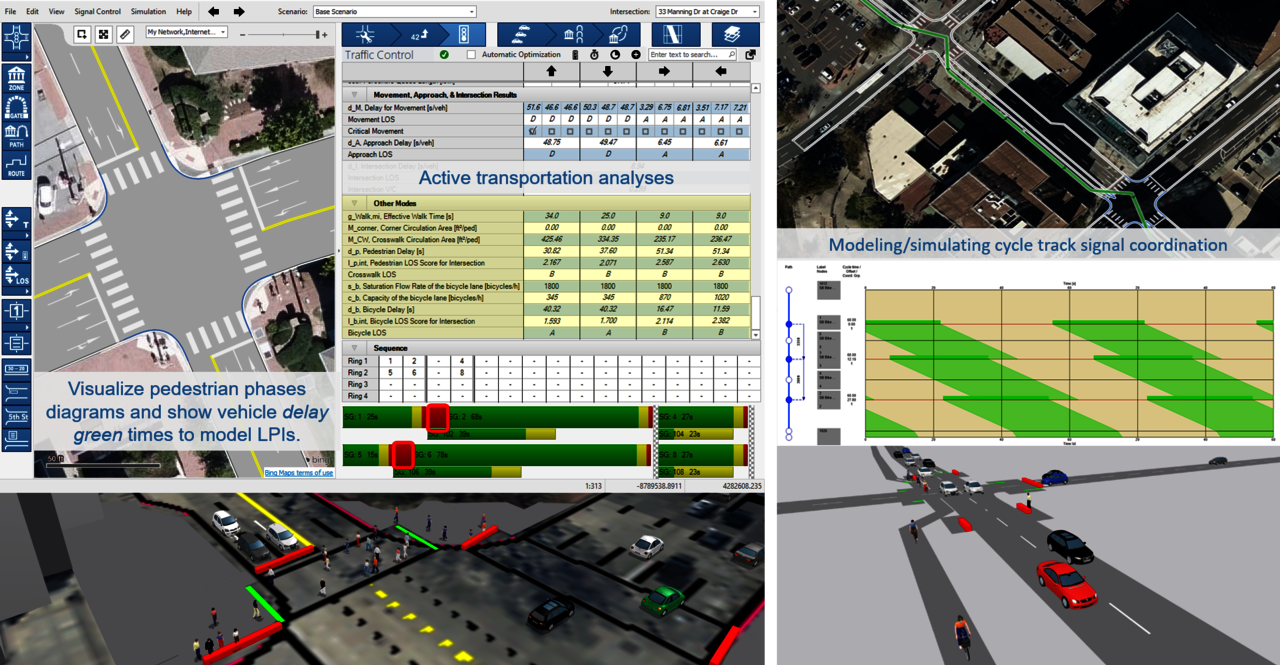 Leading pedestrian intervals and exclusive pedestrian phase evaluations
Solutions like Leading Pedestrian Intervals (LPIs) at traffic signals are wide-spread active transportation plan features. Advantageously, PTV Vistro's built-in Delayed Vehicle Green input easily creates LPIs. This setting enables you to accurately evaluate, optimize, and coordinate LPI operations across your network. In addition, PTV Vistro includes build-in functionality to analyze exclusive pedestrian phases, allowing all pedestrians to cross safely while vehicular traffic has all-red signals.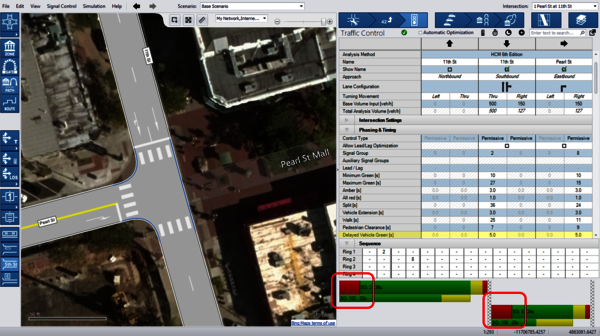 PTV Vistro models leading pedestrian intervals (LPIs) using the Delay Vehicle Green functionality.
Active transportation analysis methods
Notably, PTV Vistro's pedestrian and bicycle evaluations provide cost-effective analyses. In fact, the Highway Capacity Manual's 6th Edition methods systematically measure your solution's multimodal deficiencies and effectiveness. Pedestrian outputs include crosswalk and corner circulation measurements, delay, LOS score, and crosswalk LOS. In addition, bicycle outputs report the saturation flow rate, capacity, delay, and LOS score and grade. These measures evaluate both dedicated and shared lane facilities.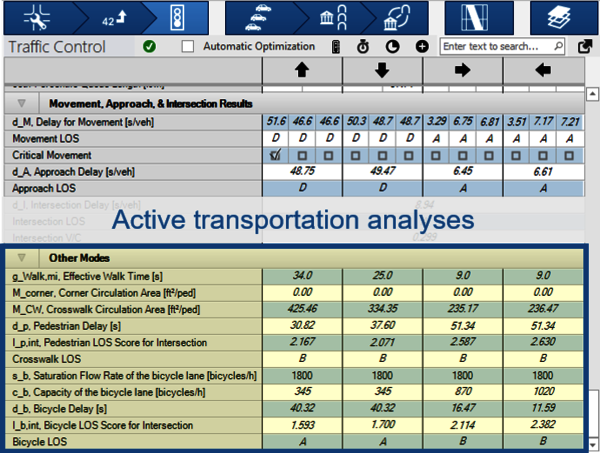 Active transportation analysis measures of effectiveness from the Highway Capacity Manual 6th Edition are viewed in the Traffic Control workflow.
Cycle tracks and more
Moreover, PTV Vistro optimizes signal timings for parallel cycling facilities. Utilizing coordination Route functionality, Vistro produces specialized analyses of cycle tracks in the time-space diagram. Uniquely, this powerful feature enables you to prioritize green times along your signal corridor. This increases service reliability and reduces frustrating stops for bicyclists; thus, balancing complete streets operations.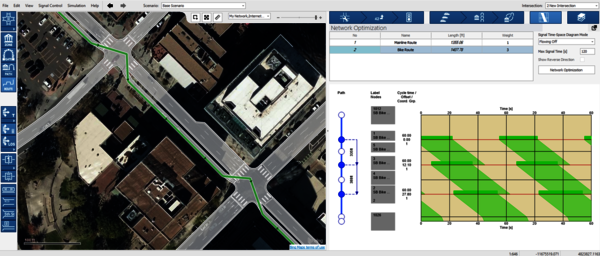 PTV Vistro's network geometry and route feature shows traffic signal coordination of cycle tracks on a time-space diagram.
Active transportation simulations and animations
Finally, visualize your active transportation plan solutions and supplement your evaluations with PTV Vissim. This adds robust 3D animations capabilities. Foremost, simulating pedestrian and bicycle interactions visually confirms your LPIs and cycle-track operations. Furthermore, these realistic simulations effectively communicate your project decisions to stakeholders. PTV Vissim animations give you strong public involvement content like images and videos. Above all, the easy migration from PTV Vistro to PTV Vissim makes the simulation of active transportation solutions budget-friendly.