PTV Group to develop integrated, multi-modal transport model for the City of Hamburg
PTV Transport Consult awarded contract for two-year project 
Innovative PTV Model2Go automation technology to build foundation of the model
A strong emphasis on the seamless integration of cycling and public transport
Hamburg gains a versatile planning instrument for future mobility strategies.
Karlsruhe 21 September 2023. PTV Group's consulting division has been chosen to develop an integrated, multimodal transport model for the Free and Hanseatic City of Hamburg. Over the next two years, PTV Transport Consult GmbH will build a comprehensive demand model for both passenger and commercial transport, focusing on the analysis year 2023. This will provide the Authority for Transport and Mobility Transition with a data-driven planning tool to guide the strategic evolution of Hamburg's mobility landscape.
The cornerstone of this innovative transport model is PTV Model2Go, a new technology that automates important parts of the model-building process and delivers a basic transport model of any city or region worldwide within just a few days. Subsequently, this basic routable network is fine-tuned by the expert PTV consulting team. For example, extensive network and traffic data sourced from the geoportal of the city of Hamburg will be utilized to enrich and refine the model. 
Hamburg's ambitious mobility agenda seeks to promote environmental alliance of cycling, walking and public transport with the aim of achieving 80 percent of all trips via sustainable modes by 2030. Accordingly, the model design places a strong emphasis on the comprehensive integration of bicycle network data to enable realistic bicycle traffic modelling. The public transport offerings will also be mapped in detail across Hamburg's entire public transport association, HVV.
In addition to the demand model for passenger and commercial transportation, additional model components will be introduced to accommodate the distinctive traffic characteristics of Hamburg. Notably, there will be efforts to accurately represent tourism traffic, airport and port traffic, with a dedicated collaboration planned with the Hamburg Port Authority.
"We are thrilled to have been entrusted with this exciting project. Hamburg is at the forefront of advanced mobility concepts in Germany. This new traffic model will equip the metropolis with a critical digital tool for informed decision-making in support of sustainable and efficient mobility in the future," says Thomas Ferrero, Managing Director of PTV Transport Consult.
The city will receive a well-structured and transparent transport model accompanied by extensive documentation, facilitating detailed model analyses. This valuable resource will find applications in a myriad of strategic studies, ranging from the development of the subway line U5 to potential investigations into mobility transitions. Furthermore, it will be instrumental in concrete scenarios such as construction site traffic planning and the provision of data for climate and air pollution control plans.
PTV Group has maintained a long-standing relationship with Hamburg and has contributed to numerous other projects within the Hanseatic city. Presently, the company is also actively engaged in the #transmove project, which is focused on developing an AI-assisted congestion and mobility forecasting tool.
PTV. Empowering Mobility as part of Umovity.
PTV Group is a leading global software company for traffic planning, simulation, and real-time management. With more than 40 years of experience in the field of mobility, the Germany-based company provides software products based on proprietary algorithms ranging from microscopic and macroscopic modeling and simulation of traffic to real-time traffic management, benefiting more than 2,500 cities and municipalities. Bridgepoint acquired a majority stake in the company in January 2022 in order to further accelerate its growth together with shareholder Porsche Automobil Holding SE. Since 2023 PTV Group and Econolite are united under the brand Umovity.
Umovity (PTV Group  & Econolite). Mobility for Humanity.
Umovity is a global market leader for end-to-end traffic management and transportation technology that takes a holistic approach to provide safer, smarter, and more sustainable Mobility for Humanity. Uniting the best-in-class solutions for intelligent traffic management systems, cloud-based adaptive traffic control, real-time traffic management software, controllers, cabinets, and sensor products by Econolite, and simulation and predictive modeling software by PTV, Umovity enables innovators and decision-makers in politics, municipalities, and industry to shape smart and livable communities, multimodal mobility, as well as Connected and Autonomous Vehicles (CAV). For more information, visit www.umovity.com.
Media Assets
Image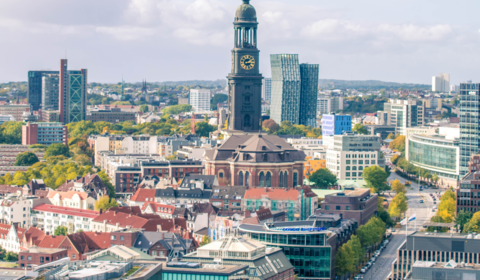 Die PTV Transport Consult erstellt das neue multimodale Verkehrsmodell Hamburg.