Rail Summit 2023: PTV to host international industry meeting in Frankfurt
Event brings together key players in the European rail industry on October, 10th-11th, 2023 
Leading experts will share best practices to achieve EU's Green Deal goals 
Keynote by Dr Marco Kampp, Director international long-distance passenger transport at Deutsche Bahn  
Karlsruhe, 31 August 2023. PTV Group – part of the brand Umovity – is set to host a Rail Summit on October 10th and 11th in Frankfurt am Main, Germany. The dedicated international industry gathering will bring together influential decision-makers, planners, and industry professionals from across Europe, fostering collaboration to bolster cross-border railway systems and advance sustainable mobility. 
Rail transport stands as a cornerstone for achieving the European Union's Green Deal objectives, striving to make mobility sustainable and reduce transport-related greenhouse gas emissions by up to 90 percent by 2050. The event's first day will place a spotlight on enhancing cooperation within the European rail sector to achieve these vital goals. In his keynote, Dr Marco Kampp, Director international long-distance passenger transport at Deutsche Bahn (DB), will introduce the groundbreaking "Metropolitan Network" study: A European high-speed rail network interlinking the EU's metropolitan regions, aligned with the ambitious objectives of the Green Deal aiming to triple high-speed rail traffic by 2050. PTV Group developed a sophisticated model on behalf of  DB, which effectively simulates the expansion of rail traffic and tracks the modal shift within this extensive network. 
The second day of the PTV Rail Summit will concentrate on knowledge exchange and operational solutions in the rail industry. Esteemed international experts, including representatives from RENFE, UK Rail Network, and Hardt Hyperloop, will present concrete approaches and strategies for future-focused infrastructure and progressive rail operations. 
"Rail transportation plays a crucial role in shaping sustainable mobility of the future, encompassing both passenger and freight services. Rail operators across Europe leverage our software solutions to enhance their services and evolve their infrastructures," said Christian U. Haas, CEO of PTV Group. " Through the inception of this Rail Summit, we aim to cultivate synergies that further strengthen Europe's rail systems and collaboratively devise strategies for realizing the Green Deal." 
For detailed information on the Rail Summit program, please visit the following link: https://lp.myptv.com/en/ptv-rail-summit-2023 
Should you wish to obtain journalist accreditation for this event, please do not hesitate to reach out to Stefanie Schmidt (stefanie.schmidt@ptvgroup.com). 
PTV. Empowering Mobility as part of Umovity.
PTV Group is a leading global software company for traffic planning, simulation, and real-time management. With more than 40 years of experience in the field of mobility, the Germany-based company provides software products based on proprietary algorithms ranging from microscopic and macroscopic modeling and simulation of traffic to real-time traffic management, benefiting more than 2,500 cities and municipalities. Bridgepoint acquired a majority stake in the company in January 2022 in order to further accelerate its growth together with shareholder Porsche Automobil Holding SE. Since 2023 PTV Group and Econolite are united under the brand Umovity.
Umovity (PTV Group  & Econolite). Mobility for Humanity.
Umovity is a global market leader for end-to-end traffic management and transportation technology that takes a holistic approach to provide safer, smarter, and more sustainable Mobility for Humanity. Uniting the best-in-class solutions for intelligent traffic management systems, cloud-based adaptive traffic control, real-time traffic management software, controllers, cabinets, and sensor products by Econolite, and simulation and predictive modeling software by PTV, Umovity enables innovators and decision-makers in politics, municipalities, and industry to shape smart and livable communities, multimodal mobility, as well as Connected and Autonomous Vehicles (CAV). For more information, visit www.umovity.com.
Media Assets
Image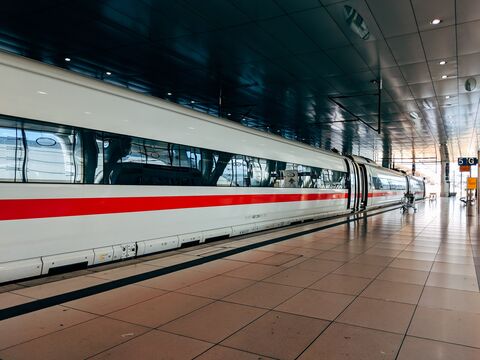 Die PTV veranstaltet am 10. und 11. Oktober in Frankfurt einen Rail Summit.